As with many other apps, you'll find Safari's preferences not in the app itself but in the iOS 8 Settings app. To see and change available preferences for the iPhone's default Web browser, open Settings and tap Safari.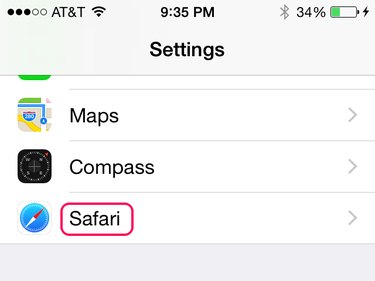 Search Settings
The first section of Settings pertains to Safari's default search engine, used when you type a search directly in the address bar.
Toggle Search Engine Suggestions or Spotlight Suggestions to enable or disable suggestions as you type in Safari's address bar and in the Spotlight search bar respectively. With Quick Website Search on, you can search compatible sites' internal search engines directly from the address bar as well. As you use the search bars on websites you visit, Safari remembers them, letting you search again by typing the site's name and a search term in the address bar. Finally, Preload Top Hit loads your top search result ahead of time, which speeds up the page's loading time but may be using unnecessary data if you're not interested in that result.
Passwords & AutoFill
Tap Passwords & AutoFill for settings related to how Safari uses your personal info when filling out forms. Turn on or off options such as Use Contact Info, Names and Passwords and Credit Cards to decide which pieces of info Safari fills automatically. To choose your identity from your contact list, tap My Info.
Favorites, Tabs and Pop Ups

Back on the main Safari settings page, tap Favorites to pick which bookmark folder to use as your favorites. Bookmarks in this folder show up as icons every time you open the address bar or a new tab.
Tap Open Links to pick whether links in Safari that open in new tabs do so in front of the current tab (choose In New Tab) or behind it (In Background). Finally, toggle Block Pop-Ups to block or allow pop-up windows, such as ads, in new tabs.
Privacy & Security
The Do Not Track option asks sites you visit to not track your identity for purposes such as advertising. This option is not legally binding, however, so it won't have an effect on every site. Tap Block Cookies to change when Safari accepts cookies. Blocking more cookies than the default setting can cause sites to not work correctly, so you should usually leave this option alone. Similarly, you shouldn't turn off the Fraudulent Website Warning, which alerts you when you visit a phishing site.
Clear History and Reading List Data
Tap Clear History and Website Data to erase your entire Safari history, including the list of sites you've visited and the data those sites have saved on your phone. Clearing your history also erases this data from all other devices signed in to the same iCloud account. If you only want to erase data from a specific site, use the Advanced section instead.
The Use Cellular Data toggle sets whether to use your cell service to download pages in your Reading List. Downloading entire Web pages can use a lot of data, so you should generally leave this option off unless you have an unlimited data plan. With the option off, the Reading List only downloads while connected to Wi-Fi.
Advanced Options
Tap Advanced at the bottom of the page to reach a second page with a few more settings. Open Website Data to see or remove individual websites that have data stored on your phone. Toggle JavaScript to turn off JavaScript, which many websites use for formatting and other features. Many pages won't work correctly without JavaScript, so you should normally leave this option on. The last toggle, Web Inspector, links with Safari on a Mac to aid in Web development. For normal day-to-day Web browsing, leave this option off.