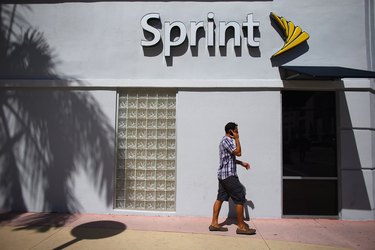 If you have a new Sprint phone and want to activate it so it's ready to use on the Sprint network, you must have Sprint activate it. You can activate Sprint phones over the phone by calling Sprint customer service, online using a desktop or laptop computer or by visiting a Sprint store. There's a separate process to activate a phone from Boost Mobile, even though those phones run on the Sprint network. Contact Sprint if you have trouble trying to activate a phone.
Prepare to Activate a Phone
Before you go to activate a phone, you should have on hand all the information you might need. Make sure you have any activation codes or other phone identifiers from your phone, as well as the phone's model. Necessary codes may be available on the phone's box or by dialing "06" on the phone itself.
Also, have your Social Security number, any Sprint account number, billing address and phone number handy, as well as your credit card, debit card or bank account information if you need to pay for phone service. If you're already a Sprint customer, or you're a customer of another carrier and need to port your phone number to Sprint, make sure you have available your cellphone account information, including your phone number and any PIN you may have set for security purposes.
If you're replacing another phone, make sure any information on the old phone is backed up and, if you wish, uploaded to a cloud service or otherwise ready to transfer to the new phone. Follow instructions from your phone's carrier or manufacturer to back up data and potentially upload it to the cloud.
Also make sure your phone is well-charged so that it doesn't lose power while you're in the middle of activation. If you're a new Sprint customer, your phone may activate automatically when you turn it on.
Activate Sprint Phones by Phone
If you need to activate a new Sprint phone, you can call Sprint for assistance. Call 888-211-4727, using another phone, if necessary, and provide whatever information is requested by Sprint customer service.
A customer service agent will walk you through the activation process.
Activate a Sprint Phone Online
You can also activate a Sprint phone online through the Sprint website. Visit the website using a desktop or laptop computer and enter the information requested.
If you're using Boost Mobile or another virtual network operator that uses the Sprint network, use that organization's website rather than Sprint's.
Checking Whether the Activation Worked
Either before or after you get off the line or finish up online, you may want to check that you can make and receive calls, send and receive texts and use your data plan if you have one.
If you're porting a phone number from another carrier, it may take some time to process.
Contact Sprint with any questions or issues.