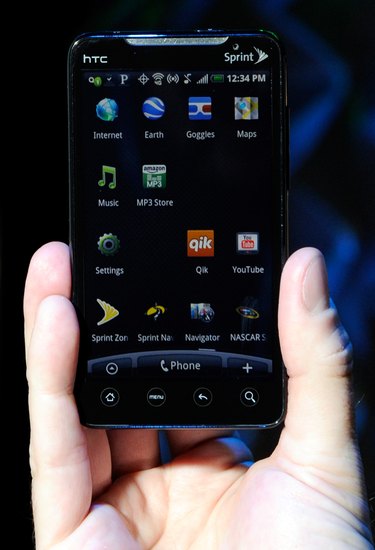 During activation of your Sprint phone, problems may arise that can prevent the successful completion of the process. If the phone is "hung" in the network, you can undertake steps to give it the boost it needs to complete activation. If the activation continues to fail, contact Sprint's customer service for help.
Hard Reset
Sprint (sprint.com) phones are programmed to begin activation as soon as they're turned on. Sometimes, the process may fail. When this occurs, hard reset your phone. A hard reset, or battery pull, will give your phone a break before attempting to complete the activation again. After one minute, replace the phone's battery and press the power button. Don't touch any buttons or the screen unless prompted to by the activation wizard.
Update Data Profile
If the automatic activation fails, update your Sprint phone's data profile to activate it. When you update the phone's data profile, it forces the phone to check in with the network. Once contact is established, the phone will be activated. Open your phone's settings menu and click either "Phone Info" or "System Updates." Click "Update Data Profile" to start the process. Restart your phone once a confirmation message that the update is complete is displayed. Data services on the phone may not be available for up to four hours following the activation.
Online Activation
Access the Sprint Activation Web page if you still can't activate your phone. The activation page will guide you through selecting the right plan and setting up the phone. Depending on your phone, you may be prompted to enter codes into your phone using its keypad. The website will also show the progress of the activation within the system. You'll need your phone's electronic serial number to complete the registration. The number is located beneath the phone's battery.
Upgrade/Add-On
If the Sprint phone you're attempting to activate is an add-on or an upgrade, your service plan must include certain features. For instance, smartphones such as the BlackBerry and the LG Optimus require that you add on the premium data feature to your service plan. Activation will continue to fail until you select the correct plan. If you're attempting to activate the phone online, you'll be guided through adding the feature. You can also contact Sprint's customer service for help with the process.