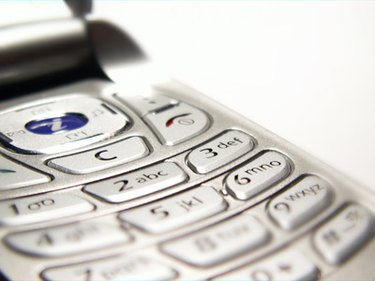 For the cell phone user who doesn't want to be locked into an expensive long-term contract or simply doesn't use his phone very often, a pay-as-you-go service, such as TracFone, can be a cost-effective alternative, offering service comparable to larger providers at more affordable rates. If you've made the decision to switch to TracFone from your current cell phone service provider, you do have the option of transferring your current phone number to your new TracFone by following a few easy steps.
Step 1
Log on to TracFone.com after purchasing your new TracFone. Click on "Activate phone, add or buy airtime" in the sidebar.
Step 2
Click on "Activate/reactivate phone" on the next page. On the drop-down menu, select "Transfer number."
Step 3
Select "Activate my TracFone with a number from another company" on the next page. The process of transferring a phone number from a different service provider to TracFone can take up to 14 days to complete for a cell phone or up to 30 days if you're transferring a number from a landline.
Step 4
Choose the brand and model of your new TracFone. You can browse by brand via the tabs at the top of the selection area, or simply click on the photo of the phone you have. Click "Submit."
Step 5
Begin the process of transferring your current phone number to TracFone by reading and agreeing to TracFone's Terms and Conditions, which will be listed on the page following the phone selection. The Terms and Conditions include warnings about the importance of maintaining active TracFone service and instructions on what you'll need to do if you have to call 911 during the number-transfer process. Agree to the terms by clicking on the check box, then click "Continue."
Step 6
Find your phone's serial number. It should appear on the activation card that came in the box with your new phone. If you don't have the activation card, in the phone's "Prepaid" menu, find the "Serial Number" option and push the "OK" or "Select" key. The serial number should then appear on the screen. Another method is to remove the battery cover on the back of the phone. You will find the serial number printed on the phone's battery. Once you have the serial number, enter it into the box on the Web page, and click "Continue."
Step 7
Provide TracFone with basic information about yourself, including your name, address, Social Security number and a contact number that is not the one you're planning to transfer. This information is used to set up your new TracFone account. You will also need to provide information about your current phone service provider so TracFone can properly initiate the number transfer, so you'll want to have a bill handy.
Step 8
Wait for your number transfer to be successfully completed. During this time, you will still be able to use your old phone.
Tip
The phone number you wish to transfer to TracFone must be active with your current service provider for the transfer to be successful.
There is no need to notify your current provider that you're switching your number to TracFone. The number-transfer process will automatically deactivate your account with the old provider.
Warning
If you are still under contract with your current service provider, transferring your number to TracFone may result in an early termination fee.
If you do not maintain active TracFone service by replenishing airtime before it expires, you will be at risk of losing your phone number.