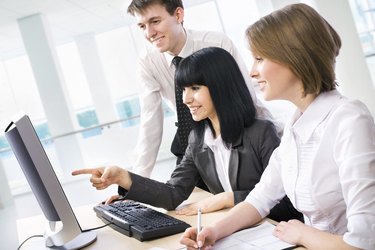 Someone forgot to use track changes, again! Verifying the accuracy of a document is harder when you can't see specifically what was changed. If you convert the old and new documents to PDFs, you can compare the two versions and see the differences. Adobe Acrobat, Foxit and Nitro spot changes in words, formatting, images and page order; Nitro also detects changes in notes.
Adobe Acrobat
Step 1
Click "View" and "Compare Documents."
Step 2
Select two files you want to compare. If you want to compare only a section of the documents, type in the first and last page numbers of the section under each filename. Click "Compare Text Only" if you want to ignore images in the documents.
Step 3
Click "OK" and the file summary appears. It shows which files were compared, gives you a link to jump to the first difference and tells you which (if any) pages were moved or deleted.
Step 4
Use the Compare pane to view thumbnails of the changes, or click "Options" in the Compare pane and select "Show Documents Side by Side" to review both documents onscreen.
Foxit PhantomPDF
Step 1
Click the "View" tab. In the Compare group, click "Compare."
Step 2
Click the first "Choose" button to select the older version of the document; click the second "Compare" button to select the newer version. Set a page range in the "From" and "To" fields for each version.
Step 3
Indicate what types of changes you want to review: visual, text or formatting. If you know pages have been moved, select "Include Page Reassembled Changes" to ignore the textual changes but see which pages have been moved.
Step 4
Click the "Show Preview" check box to preview the comparisons. Click "OK" to generate a results PDF that highlights insertions, deletions, replacements and movements.
Nitro
Step 1
Click "File" and "Open" to open each document you want to compare.
Step 2
Click the "Review" tab. In the Advanced panel, click "Compare."
Step 3
Click "Show Changes in Context With Annotations" to compare the content of the PDFs, or click "Show Only Differences Between Documents" to show the differences on a pixel level. Click "Next."
Step 4
Indicate the original document and the revised document in the "Original Document" and "Changed Document" menus.
Step 5
Select "All" to compare all the pages within the documents, "Current Page" to compare only the page shown in the preview or "Pages" to set a page range.
Step 6
Click "Compare." A new results tab opens; it highlights the detected changes to the content or shows an image of the pixels that were found in only one file.