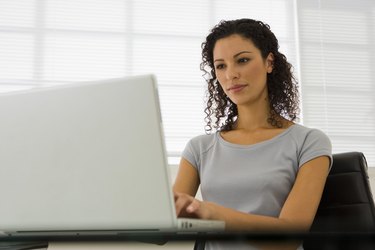 Getting your computer ready for Internet connection is easy if you have an Ethernet adapter installed in your computer. An Ethernet adapter, also called a network card, network interface card or network interface controller, provides a physical port for networking mediums such as Ethernet cables. It also communicates with the computer and allows it to access a network. The following steps will help you configure your Ethernet adapter.
Step 1
Ensure that the Ethernet adapter is installed in the computer. Modern computers have Ethernet adapters built in, but it is still necessary to check at the back of your desktop computer, or at the side panels of your laptop computer, to see if you have one installed. The Ethernet port has the same shape but is slightly bigger than a phone connector.
Step 2
Install the driver of the Ethernet adapter. To check if the driver is already installed, click "Start" and then "Control Panel." Select "Performance and Maintenance" on the next window and then click the "Hardware" tab from the dialogue box that appears.
Step 3
Select "Device Manager" and look for "Network Adapter" or "Ethernet Controller." Click the plus sign (+) beside it to expand the menu. Right-click on the name of your Ethernet adapter and select "Properties." If the driver details are listed under the "Driver" tab, the driver is already installed so you may skip the next step. If not, proceed to Step 4.
Step 4
Place the Ethernet adapter's software disc into your optical drive (CD/DVD-ROM). Wait for it to automatically run; otherwise, navigate to your CD/DVD drive in "My Computer" and run the installer from there. Follow the instructions on your screen and reboot the computer after the installation process.
Step 5
Download the driver of your Ethernet adapter if you happen to have lost the software disc or the software disc is corrupted. Open a web browser, navigate to the website of the manufacturer of your network adapter and download the driver from there. If it is not available, try to search for the driver in download sites such as Driverzone.com or Driverskit.com.
Step 6
Click "Start" and then "Control Panel." Select the "Network Connections" icon and right-click on "Local Area Connection." This time select "Properties" and then click on the "General" tab at the upper portion of the window. Select "Internet Protocol TCP/IP" and click "Properties." If the computer will be part of a network, set the computer to "Obtain IP address automatically" and "Obtain DNS server address automatically." Otherwise, key-in the IP address and DNS server address and click "OK."