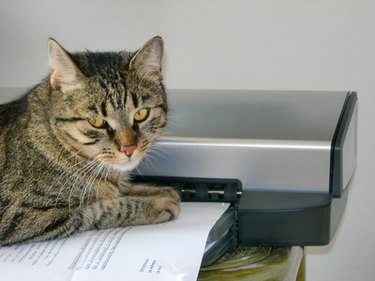 Setting up a network printer has a number of advantages. Once the network printer is in place, users will be able to share system resources. Instead of buying every employee his or her own desktop printer, business owners can use a network printer like the HP LaserJet 2015 as a single shared resource. Setting a static IP address on the printer, allows users to access the printer from anywhere in the office.
Step 1
Print a configuration page by pressing and holding the "Go" button for five seconds. Take note of the current IP address of the printer.
Step 2
Log on to your computer and open your Internet browser. Type the current IP address of the HP LaserJet 2015 in the address bar.
Step 3
Wait for the configuration page to open, then click the "Networking" tab. Click on "Network Settings" under the "Configuration" menu.
Step 4
Click the "TCP/IP" tab and use the drop-down box to change the configuration method to "Manual." Type the new IP address and click the "Apply" button.
Step 5
Click "OK" at the configuration page. Wait a few minutes and print a new configuration page. Be sure that the configuration page reflects the new IP address.