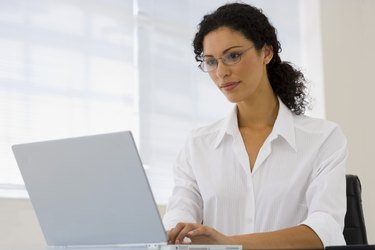 Need to find your printer on a network? If you need to access a printer from a machine on your home or office network, you may need to find the printer's URL (Uniform Resource Locator) first. Just like sites and devices on the Web, machines and hardware on a network have an address or URL that identifies them in the network's context. If you have a printer whose URL needs tracking down, this is easily done.
Step 1
On your Windows PC, open Microsoft Internet Explorer. Any other Microsoft Windows application with an address bar can serve the same purpose: Windows Explorer or My Computer will work equally well.
Step 2
Query your network's print server. This is done by entering your print server's URL, followed by the request code "/printers/." If your network's print server is called "OfficePrinters," for example, the URL to enter would be:
If you don't know your print server's URL, ask your network administrator or see the Tips section.
Step 3
Identify your printer from the query results. Entering the print server query will bring up a list of the network names of printers available on the network. If there is only one printer connected to the network, the only result will be your printer's network name. If there are several, identify your printer by its manufacturer and model.
Step 4
Find the printer's URL by combining the network name with the print server, using the formula "http://[your print server name]/[your printer's network name]/." For example, an HP Deskjet 4480 would show up on the network under a URL like this:
This is the printer's URL. Write this address down for sharing the printer.