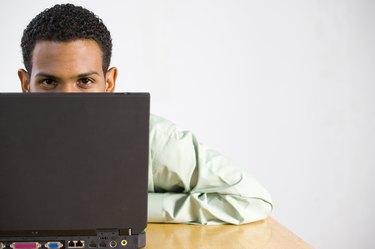 Connecting your Sharp TV to a laptop can be accomplished by using a cable that will move the display on your laptop monitor to the TV screen. Computers will have either Video Graphics Array (VGA) or Digital Video Interface (DVI) ports. Sharp LCD TVs will have a VGA port and an High Definition Multimedia Interface (HDMI) port that can be used to the connect the TV to the computer. Once the two are connected, the larger screen of the television will help with work and entertainment.
Step 1
Turn off both your computer and TV before plugging any cords into either.
Step 2
Determine the type of connection on your laptop. You will either have a VGA connection or a DVI connection. VGA are rectangular ports with 15 pin holes. A DVI connection is larger, has 24 pin holes, and 4 larger holes next to the main connection. With a VGA connection you can use a VGA cable; the television has a VGA port as well. If you have a DVI connection, you can connect with either a DVI to VGA cable or a DVI to HDMI cable.
Step 3
Connect one end of your cable into the laptop, depending on the connection on your laptop. Connect the other end of the cable into the VGA port on your TV. If you are using the DVI to HDMI port, plug the HDMI end of the cable into the HDMI port on the back of your TV.
Step 4
Turn on both the TV and the laptop. Click the "Start" button in the bottom-left corner of the desktop to open the Start menu. Click "Control Panel," then "Appearance and Personalization," and then under "Personalization," click "Adjust screen resolution."
Step 5
Click the screen marked "2" and click the drop-down menu next to "Resolution." Move the slider to the screen resolution of your TV. You may need to consult the TV owner's manual to find out the resolution of your screen.
Step 6
Click the menu next to "Multiple Displays" to set how you want to view the desktop on your TV and laptop. Click the "Apply" button at the bottom of the window, and then click "OK" to close the window.