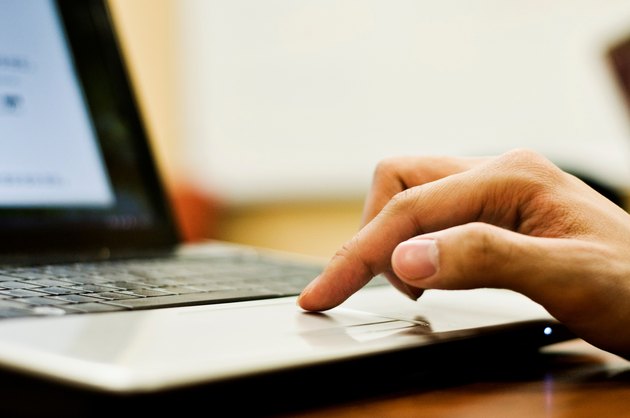 Smart televisions are designed to be one-stop shops for entertainment, bringing you streaming video, cable connections, and other multimedia without the need for a box or attachment. However, you can still connect your laptop to a smart TV if you'd like to view the contents of your computer on the television. Smart TVs rely on HDMI connections; your laptop may or may not support this cable format by default.
Step 1
Check your laptop's video output ports to figure out which format it uses. Modern laptops often have HDMI ports, but older computers will use DVI. Apple's MacBook series relies on an Apple-specific Thunderbolt port.
Step 2
Connect one end of your HDMI cable to one of your smart TV's HDMI input slots. Most Smart TVs have several HDMI ports from which to choose; use the first available slot.
Step 3
Connect the other end to the laptop's HDMI port. If you're using an adapter, connect the HDMI cable to the Out port on the adapter and then connect the appropriate cable from the Out port on your laptop to the In port on the adapter. For instance, run a DVI cable from the DVI Out port on the laptop to the DVI In port on the adapter, and the HDMI cable from the HDMI Out port on the adapter to an HDMI In port on your television.
Step 4
Turn on your smart television and your laptop. Use the "Input" button on your remote or on the television to set it to the HDMI channel that corresponds with the input port to which you've connected your laptop. Most laptops will automatically detect the connection and start screen sharing; press "Windows-P" or "Command-F1" to switch between options.
Set Up a DLNA Media Server (Windows)
Step 1
Connect your smart TV to your wireless network. You'll find these settings somewhere in the television's main menu; follow the manufacturer's instructions for your specific make and model of TV to complete this process.
Step 2
Open Windows Explorer on your laptop by pressing "Windows-E."
Step 3
Place any media files you wish to share with your smart TV in the "Public" folders in each media category. For example, place music in the Public Music sub-folder in the Music folder, and place videos in the Public Videos sub-folder in the Videos folder.
Step 4
Open Windows Media Player by pressing the "Windows" key, typing "Windows Media Player," and clicking the "Windows Media Player" icon.
Step 5
Click the "Stream" menu and select "Turn On Media Streaming." Click the "Turn On Media Streaming" button.
Step 6
Locate your smart TV on the list of networked devices. Click the "Allowed" check box to enable sharing with your television.
Step 7
Turn on your smart TV and search through the available connections. Your computer's media library will be shared to the TV as a DLNA media server.
Things You'll Need
DVI to HDMI adapter

Thunderbolt to HDMI adapter

HDMI cable
Tip
Apple computers do not include built-in applications for setting up DLNA servers, but free and paid downloadable solutions are available. XBMC, MythTV, and TVMobili all support sharing in the DLNA standard.
Television dongles such as Chromecast and Apple TV can also be used to share content from your laptop to your TV. If you own one of these dongles, consult the manufacturer's instructions for steps on sharing content between the devices.
Warning
Information in this article applies to Windows 8 and OS X Mavericks. It may vary slightly or significantly with other versions or products.