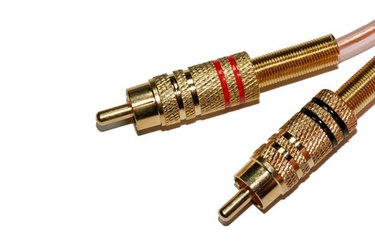 Digital coaxial cables are used to send audio from one device to another. The cables are similar to the red-and-white RCA video cables used by stereo systems; however, these digital cables provide a cleaner audio transfer. Other than that one feature, the connection process is exactly the same when you use the red-and-white RCA audio cables with the equipment.
Step 1
Check your audio devices and see if they support one or two cable connections. The single digital coaxial cable connection is usually used by headphones and microphones, while two digital coaxial cables connect televisions to a sound system or other larger equipment.
Step 2
Plug the digital coaxial cable(s) into the "Digital Audio Out" ports on the back of the device you want to send the audio signal from.
Step 3
Connect the other end of the digital coaxial cables into the "Digital Audio In" ports on the connecting device.
Step 4
Power on the two devices and adjust the equipment you are playing the audio from to "digital audio." This allows the device to read and play the audio connected to its digital audio port.