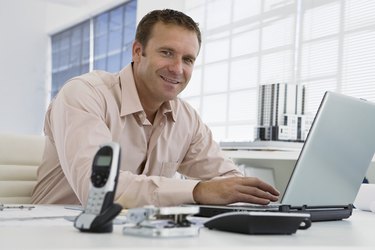 Sharing a printer over a wireless network has several advantages: It can substantially cut down on the foot traffic in your home or office, as individuals will no longer have to use a central computer to print documents, and it will eliminate the need to email files to yourself. Although sharing a remote printer used to involve a tedious and complex setup process, newer printing software makes sharing a printer remarkably easy. The entire procedure should take no more than 20 minutes.
Step 1
Navigate to the "Network and Sharing Center," found in the "Start" menu's "Control Panel," on the primary computer that is used for the printer. This page will contain all of the options for your home network.
Step 2
Locate the "Printer Sharing" option, which will be toward the bottom right of the screen. Click on the drop-down menu next to the item, which will bring up a menu containing two option boxes. Select the option box "Enable Printer Sharing," then exit out of the menu.
Step 3
Repeat Step 2 on the wireless laptop, enabling printer sharing on that computer as well.
Step 4
Reboot both machines to complete the process. You will now see the printer listed in your "Network" tab, which is located within the "Start" menu.
Step 5
Choose the shared printer as the default printer, if you wish, and print a test page to ensure your wireless print sharing was set up correctly.