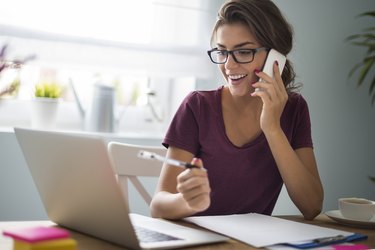 Hotmail is part of the Windows Live suite of services, which also includes the Microsoft Live search engine and Windows Messenger. Contacting Microsoft Live customer service no longer consists of sending an email. Microsoft Live has replaced email support with the Online Solutions Center. This allows users to get help with problems through a database of questions and answers. Microsoft can also be reached by phone if you cannot find the answer to your problem.
Step 1
Log in to your Hotmail account.
Step 2
Click the "Help" icon in the upper-right corner of your screen.
Step 3
Click "Support" in the drop-down menu.
Step 4
Type your question in the "Ask a Question" field. For example, type "How do I change my password?" A list of similar questions with solutions will appear. In the case of the "change password" question, there are more than 4,000 possible matches.
Step 5
Click the question that most closely resembles your own. In most cases, your question will already have an answer. On the homepage for support, there is a list of solution categories that includes the most common types of questions.
If you don't see a question or answer that solves your problem, click the "Ask a Question" link. You will need to create a Solutions Center profile. This will post a question on the community forum. You can check a box to alert you through email when someone responds to your question.
Step 6
If you can't get on your computer or can't find the answer, Microsoft does have a phone number for its online services. Call 1-866-672-4551 between 8 a.m. and 1 a.m. EST Monday through Friday and between 8 a.m. and 8 p.m. EST Saturday and Sunday.