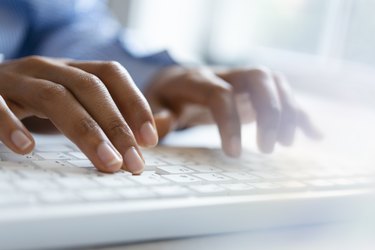 MSNBC has a live television channel and a website that report political stories alongside other breaking news. Whether you need to send a complaint to MSNBC, pitch a news story, or report a technical issue, you have several options to contact the station via email, phone, mail, social media and the MSNBC website. The methods and procedures vary depending on your reason for contact. Since MSNBC receives a lot of feedback and requests, be aware that you may not always get a response.
Reach MSNBC Through Contact Form
If you need to contact MSNBC about a technical issue you experience when using its website or apps, use the online contact form at msnbc.com/contact. This form has options to get help with problems with your MSNBC account, report users who have malicious intent, report general bugs, and troubleshoot streaming video issues.
You need to include your name and email address so that MSNBC can respond to you if necessary. The form also asks you to supply the link to the page that causes issues, if applicable. When writing your description, explain when, where and how the issue occurred and include any troubleshooting steps you've already attempted. If you're reporting a problem with another user, include the person's username, the violation, and the date of the incident.
When using the MSNBC contact form, note that the news station doesn't guarantee a personal response, but it does address issues that are reported.
MSNBC has an email address available to reporters who want the station to comment on a story or issue. If you're a reporter, you can reach out to msnbctvinfo@nbcuni.com with your request.
However, keep in mind that this email address isn't meant for sending in tips, comments on stories or news pitches. To send a comment or story idea to the MSNBC executive producer, reach out to msnbc.digital.editors@nbcuni.com instead.
Use the MSNBC Mailing Address
If you don't mind using traditional snail mail, you can write a letter to MSNBC with your comments, complaints or ideas. The general MSNBC mailing address is MSNBC, 30 Rockefeller Plaza, New York, NY 10112.
However, if you need to reach out to the station to dispute an inaccurate story about you, then write to the editor-in-chief instead. This address for such legal notices is MSNBC, One Microsoft Way, Redmond, WA 98052.
MSNBC only lists a phone number to use if you're a reporter who needs to make a press inquiry. If this applies to you, dial 212-664-6605 to reach the media relations team. Otherwise, you need to use the other contact methods available.
When you want to comment or complain about a news story, you can easily do so on MSNBC's Facebook and Twitter accounts. However, keep in mind that due to the huge numbers of posts and comments, an actual person from MSNBC likely won't see your specific message.
Furthermore, the news station's social media accounts don't allow for private messaging. For example, the Twitter account has the direct message feature disabled, while the Facebook account only offers an automated bot for news alerts.
Contact Specific Reporters or Shows
If you want to contact a specific show, check its page on the MSNBC website to see if an email address, phone number or social media handle is mentioned. For example, The Rachel Maddow Show page notes that you can email Rachel@msnbc.com or send a direct message with a news tip on the show's Twitter page. Some other popular shows don't include specific contact details, so you might consider using MSNBC's general contact options for those shows.
Finding the contact details for a specific reporter takes more work. You can start by doing a web search on the reporter's name to locate their professional website or social media accounts. This may lead you to an email address, a contact form, or social media pages that may have private messaging enabled.