Emoticons are small graphics used to express mood or facial expression in different forms of communication, such as email and IM (instant messaging). Emoticons were originally simple sequences of characters, but have since evolved into graphical images, usually with a 19 by 19 pixels or 50 by 50 pixels resolution. Graphics emoticons are popular enhancements that enable better interpretation of text and are widely used in chat software such as Yahoo! IM and MSN Messenger. You can create customized emoticons from your JPG images, using free services.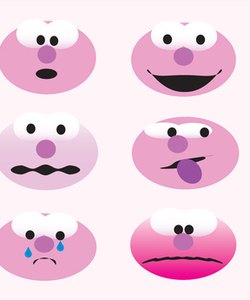 Step
Launch a web browser and go to emoticonize.com. The website offers a free tool to convert any JPG image to a 50 by 50 pixels resolution emoticon, compatible with IMs such as MSN Messenger and Windows Live Messenger. Converting a JPG image to a 19 by19 pixels resolution emoticon is impractical because all the details in a JPG image will not be visible in a small 19 by 19 pixels area.
Step
Upload the JPG image for conversion. The emoticonize.com homepage is split into two panels. The left side of the screen displays most recently created emoticons by the site's visitors, and the right side contains the converter utility. Click the browse button under the text "Choose a picture" and locate the JPG image in your disk, using the subsequent dialog box. Navigate to the image location on disk, highlight the image and click "Open" on the bottom right of the box.
Step
Label the image. After specifying the JPG image to be converted, type in what you want to name the output emoticon in the space provided, under the text "Give it a name..."
Step
Convert the JPG image. Click the "Create" button under the converter. The utility will create an IM compatible GIFF file from your JPG image.
Step
Save the new emoticon to disk. Wait for the converter utility to process the image. After the file is created, the page will refresh and display the emoticon on the left side of the screen, usually the first emoticon among many others that the site created. Locate the file, and save by right-clicking and selecting "Save Image As..." Save the file on desktop.
Step
Add the emoticon to chat software. Open MSN Messenger and click on the menu icon, on the top right of the IM interface. Click on "Tools," select "Emoticons" and then "Create."