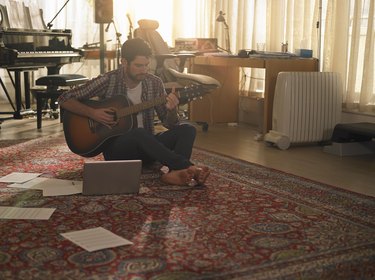 For the musically minded among us, sheet music is the language that makes melodies happen. These shareable song roadmaps tell musicians exactly what notes to play, making them essential for performers who can't quite learn a song by ear. Fortunately for them, music transcription software – which uses neural networks to digitally convert audio sources like MP3 to sheet music – does have that ability. Check out these prominent options for automatic MP3-to-sheet-music conversion.
All About AnthemScore
Available for Windows 10, Mac OS X 10.9 and above and Linux x64, AnthemScore from Lunaverus is among the most popular options for MP3 to sheet music conversion. This software features a database of millions of audio samples to accurately analyze the aural data from sources such as MP3, WAV and MIDI files and convert them into sheet music.
Anthem Score also allows you some manual control, as you can edit notes with a simple right-click when the software misses one. The developers of AnthemScore estimate that processing a single song takes about three to five minutes, on average, and sheet music can be exported in PDF and MusicXML formats. You can download AnthemScore version 4.1.3. for a free 30-day trial and purchase the program for $45, as of 2018 prices, if you like what you hear.
The Sonics ScoreCloud
Also available on PC and Mac platforms, ScoreCloud offers an alternative to AnthemScore. ScoreCloud, like AnthemScore, transcribes audio sources such as MP3, MIDI, WAV, AIFF and AIF files into sheet music, but its focus lies squarely on translating polyphonic and monophonic live instrument recordings. The developers at DoReMIR Music Research note that many produced pop and rock songs, drum-heavy tracks and symphonies take about 1.5 times the length of the song to analyze and may not produce satisfactory sheet music.
Unlike AnthemScore's flat fee, ScoreCloud uses a subscription purchase model. At no cost, you can convert ten songs for free, though your sheet music will feature a digital watermark. A monthly fee of $4.99 unlocks the "Plus" tier, which gives you unlimited online and offline conversion, watermark-free sheet music the ability to import and export MIDI while the $19.99-per-month "Pro" tier adds MusicXML format exports to the mix. Up to Version 4 as of 2018, ScoreCloud also comes in a lightweight mobile version for iPhone.
Online Transcription
If you're looking for an option to convert audio to sheet music for free, the internet has your back (unlike it does in the YouTube comments section). Melody Scanner enables you to upload music online, using artificial intelligence to analyze the audio and convert it to fully editable sheet music.
It doesn't cost a thing to upload up to one minute's worth of music from YouTube, view the first 28 bars of sheet music and export a PDF. Like ScoreCloud, Melody Scanner relies on a subscription model of about $3.40 USD per month to unlock the full sheet music and upload YouTube recordings of up to five minutes in length. For about $8 per month, you'll also have the option to upload MP3s and export the sheet music as MIDI or MusicXML files.