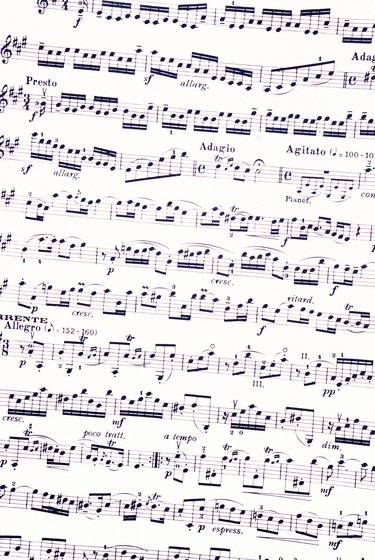 Sibelius 7 provides composers, music theorists and transcribers the ability to quickly notate their musical creations. However, entering a previously created score can take a significant amount of time. While not perfect, using the PDF score import option can drastically reduce the amount of time it takes to create a score with printable parts. For best results, try to find a clean and clear copy of the PDF to avoid scanning issues during the import process. Sibelius comes pre-installed with a program called PhotoScore Lite to import PDF files.
Step 1
Launch Sibelius and select the "Import" tab.
Step 2
Click the "PhotoScore" button.
Step 3
Select the "Open PDFs" button.
Step 4
Navigate to the file you want to import, select it and select "Open."
Step 5
Enter the page range to indicate the pages you want to import. By default, the page range for the entire PDF document shows.
Step 6
Click the "Send to Sibelius" button once the import process completes.
Step 7
Choose an option to set up the instruments in the score. Select the "Let Sibelius 7 Choose Instruments" or the "Choose Instruments" radio button and Click "OK."
If you select the option to choose your own instruments, a new instrument selection page opens. The "Instruments in File" sidebar shows a list of staves in the score. Select an instrument from the "Replace With" list and click the "Add" button to choose the instrument for each staff in the score. Click "OK" to begin importing the score to Sibelius.
Tip
For advanced import options and better accuracy, consider upgrading to the full version of PhotoScore. PhotoScore Lite imposes many limitations on score imports, including limiting the total number of pages to 20, a maximum of two voices per staff, 12 staves per page and it won't import many of the performance indicators such as articulation marks and text.
Locate public domain PDF scores on websites like ChoralWiki, The Mutopia Project and Petrucci Music Library. Each of these sites offer music that is longer under copyright protection. In general, a copyright stays effective from the date of creation until 70 years after the copyright holder's death for music created after January 1, 1978. Special rules apply to anonymous works, works created with a pseudonym, works made for hire and works created before 1978. Check with the U.S. Copyright office if you have questions about whether a work qualifies as a public domain work.