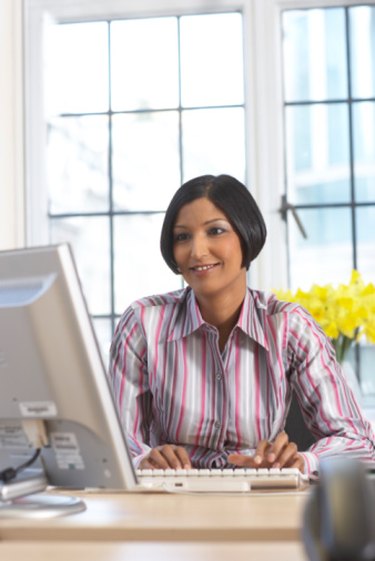 Adobe's Photoshop, a popular image editing application, includes support for a wide range of file types. If you want to import and edit a Microsoft Word document in Photoshop, you can take advantage of Word's export to Adobe PDF option. Once you've exported your Word document as a PDF you can readily open the document in Photoshop, since the Photoshop application provides seamless importation of documents in PDF format.
Step 1
Run Microsoft Word 2010 and open the document that you want to export to Adobe Photoshop.
Step 2
Click the "File" tab, then click "Save As" to open the save file dialog window.
Step 3
Select "PDF (*.pdf)" from the "Save as type" drop-down list.
Step 4
Click "Save" to save your Word document as an Adobe PDF document.
Step 5
Run the Adobe Photoshop application.
Step 6
Click "File" in the menu bar and then click "Open" in the ensuing menu.
Step 7
Navigate to the folder that contains your new PDF file, then click the PDF and click the "Open" button. An "Import PDF" dialog box will appear.
Step 8
Hold the SHIFT key and click each page in your document that you want to import into the Photoshop application.
Step 9
Click "OK" to import the selection into the Photoshop application.