MP4 is a popular video format that compresses videos in high quality formats while keeping files relatively small. MP3, on the other hand, is a popular audio format that is widely supported by a number of programs and media players. If you are interested in the audio portion of an MP4 file, you can convert it to MP3 audio and upload to your portable media player or audio program. Convert an MP4 file to an MP3 format on your Mac computer using a freeware media converter program.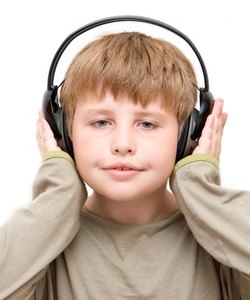 Step
Download and install a freeware Mac media converter program such as Kigo Video Converter (see the Resources section for link to the download page). This program enables you to convert MP4 video files to MP3 audio format.
Step
Launch the program after completing the installation and click the "Add Files" button on the top to launch the "Open" dialog box. Locate your MP4 video file from the folder where the file was saved and click "Open" to import it to the media converter program.
Step
Click the input MP4 file and click "Play" to preview it on the monitor before proceeding to convert it to MP3 format. Select "MP3" in the profile box and click the "General" button.
Step
Type the output file name and select the output folder where you wish to save the converted file. Select the start and stop time if you want to trim the output audio file. Click the "Audio" button and select "MP3 codec," if it is not selected by default. Select a minimum bitrate of 128Kbps and a minimum sample rate of 44,100. Select "2" in the "Channels" box.
Step
Click "Encode." The media converter will convert the MP4 video file to MP3 audio format.