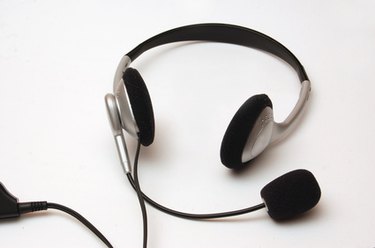 Macintosh OS X has speech functions built into the operating system, found in the Speech pane of System Preferences. Converting text to speech is very full-featured, but the built-in speech recognition system is much more limited. You can work with the built-in services in some cases, but you may need a more full-fledged dictation software.
Step 1
Open the Speech preference pane in System Preferences. Click on the Speech Recognition tab. Click on the "Speakable Items:" On button, then click on the "Open Speakable Items Folder" button. Speakable items comes with many automatic actions but will need to be customized to insert text into a document. For example, you can use Automator, an included scripting utility, to add boilerplate text to TextEdit and Word documents when you speak certain commands. However, Speakable Items is much more suited to launching applications and other system interaction.
Step 2
Purchase the MacSpeech Dictate software to do regular dictation; as of May 2010, it is the only such product for the Macintosh. MacSpeech Dictate requires some voice training to get it to full efficiency, but once that is completed, you can dictate into any open application, and MacSpeech will convert your voice to regular text. At this time, MacSpeech Dictate costs $199.
Step 3
Use MacSpeech Scribe to convert recorded spoken audio to text. MacSpeech Scribe must be trained similarly to MacSpeech Dictate, but afterward it uses prerecorded audio files instead of live dictation as the source for the text it transcribes. At this time, MacSpeech Scribe costs $149.