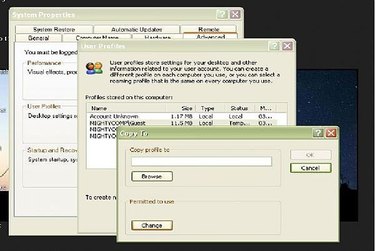 If you are an administrator or member of the administrators group for a computer, you can copy a user's profile and apply the properties to another user. These steps will show you how.
Step 1
Click "Start" and then click on "Control Panel." If you are using an older version of Windows you will click "Start," point to "Settings" and then click on "Control Panel."
Step 2
If your "Control Panel" is in "Category View," click the option in the task pane that says "Switch to Classic View."
Step 3
Double click "System." Now "System Properties" will open.
Step 4
Click on the "Advanced tab." Under "User Profiles," click "Settings." The "User Profiles" dialog box will appear.
Step 5
Under "Profiles Stored on this Computer," click the name of the user you want to copy. Click "Copy To."
Step 6
Type the location for the new profile, or click "Browse" and navigate to your desired location. If you want to choose a new user, click "Change."
Step 7
Click "OK" to copy the profile to the new location.