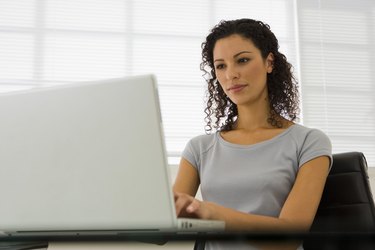 A Microsoft Word document locked as "Read-only" allows you to view the file but prevents you from saving changes without an administrator's password. Despite this restriction, it is still quite easy to use the information in this type of file. While there is no way of changing a read-only document itself, there are two ways of getting at its contents in such a way that you can save changes without the password.
Copy and Paste
Step 1
If you already know how to copy and paste text, you can do so just as you normally would. A read-only file doesn't prevent you from copying, pasting or altering the text. It only prevents you from saving the changes. To copy and paste, go to "Edit" and choose "Select all." Word will highlight all the text.
Step 2
Go to "Edit" and choose "Copy." This will place the text on a virtual "clipboard." Word won't tell you that the text has been successfully copied.
Step 3
Go to "File" and select "New." A blank document will appear. This file will have read and write privileges.
Step 4
Go to "Edit" and select "Paste." Word will drop the text in the new file and allow you to make changes and save.
Insert Text from File
Step 1
You can also access the text from a read-only file without ever having to open it. To do this, open the file in which you want the text from the read-only file inserted.
Step 2
Using the mouse or the arrow and enter keys, position the cursor in your file in the exact location you want the text to show up.
Step 3
Go to "Insert" and select "File." A box will appear allowing you to browse your files. Find the document with the text you want and click on it.
Step 4
Select "Insert" and Word will drop the text into your current file. The text may not look exactly as it did in the original file. Most of the time you'll be able to alter the inserted text. However, you may not be able to if you inserted the text from a much older version of Word.
Tip
Shortcuts will expedite the processes described above. Holding down "Crl" + "A" will select all text in a Word file. "Ctrl-C" copies text. "Ctrl-V" pastes text. For other short cuts, click on any drop down menu in Word. The functions that have shortcuts will specify them on the right. For Macs, use "Command" instead of "Ctrl."
Warning
When opening a document you did not create, check the title at the top. There it will specify if it is read-only. If so, follow the steps above before making changes to avoid losing your work.