Microsoft Excel 2007 can produce a variety of graphs and charts, including scatter plots, line graphs and pie charts. To create a curved graph, you must provide the raw data for the curve, such as a set of x- and y-values in two columns. The first column tells Excel the x-values, or input, and this will be graphed along the horizontal axis. The second column, the y-values, represents the output numbers, which will be graphed along the vertical axis. These values may be collected from a scientific experiment, as part of statistical research or from other fields that collects data.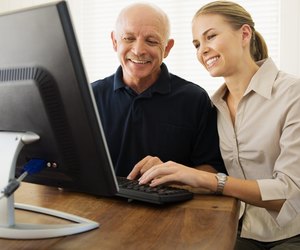 credit: Jupiterimages/Pixland/Getty Images
Step
Input your x-values into the first column, starting at cell A1.
Step
Input your y-values into the second column, starting at cell B1.
Step
Select "Insert" from the toolbar and choose the "Scatter" button. Choose "Scatter With Smooth Lines" from the drop-down menu.
Step
Select the chart by left clicking on it. Go up to the top toolbar and select "Layout" underneath "Chart Tools." Select "Primary Horizontal Axis" from the "Axes" drop-down menu (press the down arrow beneath "Axes" for the menu). Select "More Options," and change the minimum and maximum x-values by selecting the top two radio buttons. Enter a value that corresponds with your data. For example, if your spread of data is from -10 to 9.1, make your minimum x-value -10 and your maximum y-value 10.
Step
Repeat Step 4 for the "Primary Vertical Axis," entering your y-values in place of the x-values.
Step
Press close.
Step
Select the graph by placing your cursor on it and left clicking on the mouse. Hit Ctrl C to copy the graph. Hit Ctrl P in Word to paste the graph into the document.