With Word 2013's ability to create a chart, you don't need to open Excel to build an XY scatter plot. Pick a chart style and enter values to plot the points on a graph. The only trick: You have to start by inserting a chart; entering your values into a table won't do the job.
Step 1: Insert a Chart
Place the cursor at the spot you want your scatter plot to appear, open the Insert tab and click Chart in the Illustrations section.
Step 2: Choose a Scatter Type
Select X Y (Scatter) and pick one of the styles. Click OK to create a sample chart with a few points already entered.
Tip
Office 2013 introduced the Bubble and 3-D Bubble styles of scatter chart. These styles offer a z-axis by sizing the bubbles based on values in a third column of data. All other styles use only two data columns.
Step 3: Replace the Sample Data
Overwrite the sample data in the spreadsheet with your own data to start building your scatter plot.
Tip
Edit the "Y-Values" cell to change the title on the chart.
Step 4: Add More Data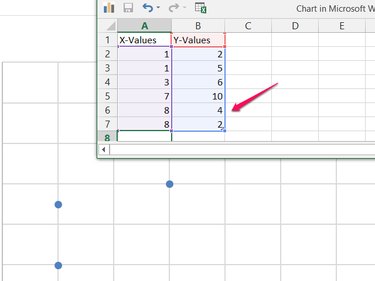 Add as many values as you need in the two (or three) columns. As you add more data sets, Word automatically includes them in the scatter plot. Word also automatically adjusts the scope of the chart to fit all of the data. After entering all of the data, close the spreadsheet window.
Tip
Right-click the chart and choose Edit Data to reopen the spreadsheet.
Step 5: Add Chart Elements
Click Add Chart Element on the Design tab (or click the + icon next to the chart) to add, move or remove chart elements such as the title, legend and axis labels.
Tip
The rest of the Design tab offers other style options, including color schemes, styles and ready-made layouts in the Quick Layout menu.