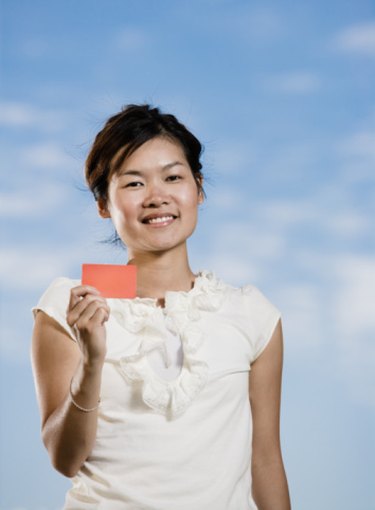 Free blank card templates can be created using a word processing program that is installed in the computer. Blank card templates permit users to customize card designs that are suitable to their taste. You can add printable text to the cards to promote a business or send a special message to someone. After creating them, you can print your cards on plain white or colored card stock paper.
Step 1
Begin a new document in the word processing program by selecting "File" and then "New Document" from the toolbar menu. Click on the "Tools" option at the top of the screen to begin a new blank card layout. Select "Letters and Mailings" from the list, followed by "Envelopes and Labels" from the sub-menu.
Step 2
Click on the "Labels" tab in the window that opens, then on the "Options" button to change the settings and preferences for the card template. Select the label brand type from the "Label Product" list. Choose "Avery A4" or "Avery Standard" to create the card template.
Step 3
Choose the product number to specify the card dimensions from the "Product Number" or "Type" list. Alpha and numerical codes are given to the type of card layout to indicate height and width. The page size may also be indicated to give the user an idea of what paper size the cards will print on.
Step 4
Select "OK" to accept the chosen options in the "Options" window. Click on the "New Document" button at the bottom of the screen to place the card template layout in the project. Place the cursor over the first box of the blank card template to begin adding text.
Step 5
Type in the desired text into the blank boxes. Highlight the text to customize it by clicking on the left or right edge of it and then dragging the cursor to the other end. Use the character tools at the top of the word processing program to center the text, italicize it and add color.
Step 6
Copy and paste the text to other blank boxes in the card template by highlighting the text with the cursor. Press the "Control" key on the keyboard followed by the "C" key to copy the text. Once you have copied the text, move the mouse to another box in the card template and click inside it. Press the "Control" key on the keyboard once again, followed by the "V" key to paste the text inside the box.
Step 7
Save the blank card document with the text by selecting "File" and then "Save" from the toolbar menu. Enter the file name in the "File" box and select the destination to save it in, then select "OK" upon completion.