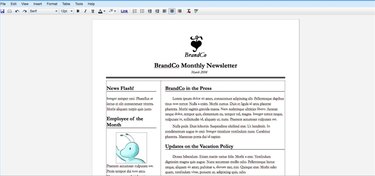 Google Docs is a convenient tool for creating various documents, including professional business or personal newsletters. Using Google Docs simply requires a computer with an Internet connection, which allows you to access it from any location in the world without needing specific desktop applications or files.
Step 1
If you do not have a free Google Docs account, create one at the Google Docs website (see Resources below).
Step 2
Sign in to your Google Docs account. Go to the "New" tab, and select "From template…".
Step 3
In the search box at the top of the page, enter "Newsletter" and click "Search Templates."
Step 4
Browse through the search results, and select the newsletter template that works best for your needs.
Step 5
Once you have selected your template, click the "Use this template" button and begin customizing your newsletter.