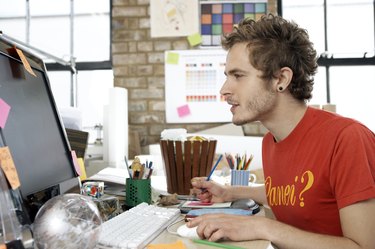 Many applications allow you to design and produce a brochure, from simple black and white tri-folds to flashy color presentations with high definition photos. To avoid compatibility issues, however, many if not most printers ask that designs be submitted as PDFs. It's important to know how to prepare the brochure and the options to choose when exporting your file to a PDF.
Step 1
Use high resolution photos and color graphics if your brochure is to be printed. Resolution normally should be 300 dpi at the size the image is used.
Step 2
Set the quality for your images at high when exporting the document to a PDF. If you placed images with resolutions higher than normal, you can set your export options to reduce resolutions of all images to 300 dpi to limit file size.
Step 3
Check with your printer on settings for your PDF if you're producing a high-end brochure to be run on a commercial offset or digital press. Professional design programs such as Quark and InDesign provide special settings such as quality control standards that the printer can provide to you.
Step 4
Mark "Export Bookmarks" and other interactive features for brochures to be viewed on the web.
Step 5
Set "Permissions" when exporting or in the PDF file itself if you wish to prevent printing from the web or restrict printing to a low-resolution version.