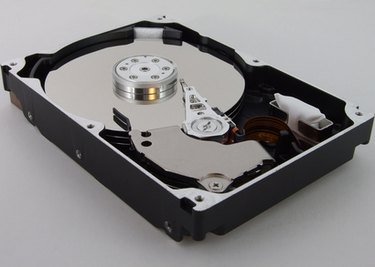 A recovery partition is a section of a hard drive set aside for an up-to-date backup of your operating system. If your operating system fails, you can recover a working copy from the partition. The backup contains all of your system settings and updates intact, allowing you to immediately use the backup upon restoration to access your system programs and data. Microsoft's Windows 7 operating system contains all the software tools you need to create a partition.
Step 1
Press the "Start" button on your Windows 7 taskbar and then select "Control Panel".
Step 2
Type "administrative tools" in the search box and click on "Administrative Tools" to open the Administrative Tools window.
Step 3
Select "Computer Management" and then click "Disk Management" under the Storage submenu in the right panel of the window to open the Disk Management screen that displays all attached system drives with partition size information.
Step 4
Locate a listed drive containing enough free space to hold the entire contents of your drive. Right-click on the drive and select "Shrink Volume" from the pop-up menu. Input the amount of space needed for the recovery drive. Press "Shrink" to free up the space for your recovery partition.
Step 5
Right-click on the newly unallocated drive space and select "New Partition" from the pop-up window. Assign the unallocated space to the drive and then format the drive to create a new partition with a new drive letter.
Step 6
Press the "Start" button and then type "Backup" in the search box at the bottom of the Start Menu. Click the "Backup and Restore Center" link that appears in the search results list.
Step 7
Click "Set up Backup" and select the new partition from the list of available disk drives. Press the "Next" button to continue.
Step 8
Select the "Let me Choose" option to open a file browser showing your system directories and files.
Step 9
Press the arrow icon next to the disk drive you wish to add to the recovery partition. Select the box labeled "Include a system image of drives". Press "Next" to continue.
Step 10
Review the options you've selected to make sure the drive you wish to recover is included, and then click "Save Settings and Run Backup" to transfer the files to the new partition.