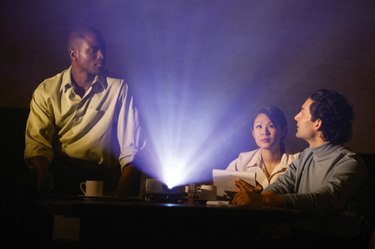 Storyboards are a form of sequential art that illustrates a story. A comic book is an example of a storyboard, and many movies are planned with storyboards. PowerPoint offers many tools to spice up the static nature of regular storyboards. The basic steps to making a storyboard in PowerPoint include writing down what you want to show for each frame in the storyboard and then using PowerPoint's graphical tools to illustrate the description you wrote. After making a basic storyboard you can make it more engaging by adding sound and animated transitions between slides.
Step 1
List the elements you need for the first frame in your storyboard. You'll make one PowerPoint slide for each storyboard frame. For example, if your first frame illustrates a person exiting a house, you could write "person," "man" or "woman," "house" or "condominium."
Step 2
Click the "Insert" menu heading and then click the "Clip art" button if you want to use Microsoft's clip art files for your storyboard. Otherwise skip to Step 7.
Step 3
Type the name of one of the elements you listed earlier into the tool box in the text box labeled "Search for." This box is located in the clip art tools pane to the right of the screen.
Step 4
Click the "Go" button to perform the search.
Step 5
Drag a graphic from the search results onto your slide. Using the aforementioned example, you would drag a house icon from the search results onto your slide.
Step 6
Size the graphic to the dimensions you need by dragging on any of the graphic's bluish square or circular handles. Rotate the graphic to the orientation you need by dragging the graphic's green circle atop the graphic
Step 7
Click the "Picture" button in the "Illustrations" panel if you want to insert a graphic file from your hard drive. PowerPoint lets you import several different graphic file types, including JPEG, GIF and PNG. Re-orient and re-size the imported pictures the same way you did the clip art graphic in Step 6.
Step 8
Repeat steps 3-7 to insert graphics for the remaining elements on your list. This will complete the first frame (slide) of your storyboard.
Step 9
Click the "Home" menu heading and then click the "New slide" button on the "Slides" panel to insert a slide for the next frame in your storyboard.
Step 10
Repeat the foregoing steps for each remaining frame in your storyboard.
Step 11
Click the "View" menu heading and then click the "Slide show" button in the "Presentation" panel to view an animated version of your storyboard.