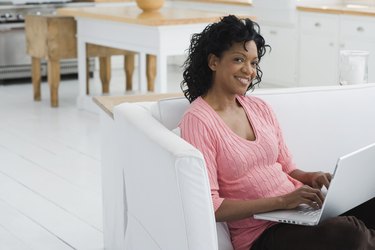 Although many email service providers offer you the option to sort messages into folders, you usually have to remember where you stored a specific message to find it when you need it. Gmail provides a different type of organizational system in which you sort and store emails using custom descriptive labels. You can then search for archived messages using either folderlike categories on the sidebar or label keywords in the Search box.
Create a New Label
As with folders, you can create new labels before you need them and as you interact with emails. To create a label beforehand, click "More" on the sidebar and then "Create New Label" to open the New Label dialog box. Enter the label name and click "Create." If you're working with existing emails, click the check box next to a message in the Inbox or open the email, click the Labels button, which is marked with a label icon, and then click "Create New" to open the New Label dialog box. When composing a message, click the More Options down arrow at the bottom right corner of the New Message window; select "Label" and then "Create New."
Apply Labels to Emails
Whenever you create a new label while working with an email, Gmail automatically applies that label to the email. Gmail also allows you to apply one or more pre-existing labels through the Labels menu. A primary difference between traditional folders and Gmail's label system is that applying more than one label sorts an email into multiple categories. You can apply up to 5,000 separate labels. To apply pre-existing labels to an email, access the Labels menu from the Inbox, an open message or a new message and then click the check box next to one or more existing label names, and click "Apply."