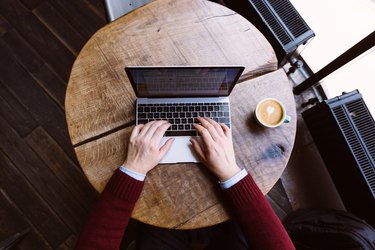 If you're using Microsoft Outlook and accidentally delete a file or folder, or later decide you want to keep something you've deleted, you can often restore the file from your Trash or Deleted Items folder. In some cases, you may be able to recover other items from your email provider's email servers. If you can't find the files that you wish to restore, contact your email provider or employer to see if backups are available.
Recover Deleted Folder in Outlook
If you've deleted a folder or individual email on the Outlook program on your computer, it's often not gone forever. To have Outlook recover deleted items, look for your Deleted Items or Trash folder in your list of folders on Outlook.
Within this folder, look for the folder or individual emails that you wish to restore. Right-click on the email or folder in question and click Move and then click Other Folder. Choose the folder where you wish to have the messages placed when you retrieve the deleted emails in Outlook.
If the email or folder you wish to restore has already disappeared from your computer, you may still be able to restore it from your email server if you have the folder called Deleted Items rather than Trash. To attempt to do so, click the Deleted Items folder, then click the Home tab on the ribbon menu and click Recover Deleted Items from Server.
Select the emails and folders you wish to restore from the menu that pops up, and make sure Restore Selected Items is selected. Make sure Purge Selected Items is not selected or you may delete the data you want to restore forever. Click OK. The restored messages and folders will now be in your Deleted Items folder, where you can right-click them to move them to the folder of your choice.
Deleted Folders on Outlook Webmail
If you're using Outlook webmail, you can restore deleted items from your Deleted Items folder, usually for up to 30 days after you have deleted them, provided you have not told Outlook to delete them permanently.
Click the Deleted Items folder and select the item or items you wish to restore. To select multiple items, hold down the Control button on your keyboard while clicking folders and emails. Once you've selected everything you wish to restore, click the Restore button. Generally, emails and folders will go to the folder they were in before they were deleted, and if that folder no longer exists, you will be able to find them in your inbox.
If you can't find the items you want in your Deleted Items folder, you may still be able to restore them. Click the Recover items deleted from this folder link and choose the items you wish to restore. Then, click the Restore button.
Folders You Can't Restore
In some cases, you may find that there are emails and folders that you can't restore through Microsoft Outlook.
If you're using Outlook through an internet service provider, an employer or a school, you can contact that organization to see if there are backups you can use to restore the emails. If that's not an option, you can also contact whoever you exchanged the emails with to see if the other party to the emails has copies that are still available and that can be forwarded to you.
If you connect to your email account on multiple devices, you can also see if there are copies of any of the deleted materials on those devices. If you keep backups of your own or sometimes print your emails, you can also see if you've archived or printed a copy of the emails you're looking to recover.