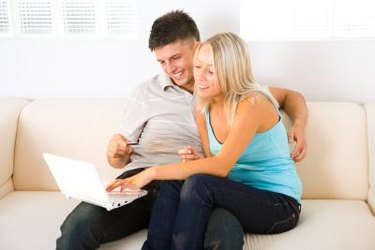 Word art is an art form that involves presenting words and phrases in an artistic fashion. Techniques typically associated with word art include manipulating letters into various shapes, coloring letters and adding shading and texture. Word art can be used to decorate invitations, logos, flyers, newsletters and many other types of media. Word art can also be used to create stand-alone works of art.
Step 1
Visit the Flaming Text or Wordle websites. These are two word art sites that offer differing takes on the word art theme. Flaming Text allows you to create more traditional word art with special effects. The word art you make at Flaming Text is suitable for logos. Wordle allows you to create a word cloud, which is basically any text you want set against a backdrop and randomized with various colors. Both are fun and offer creative possibilities.
Step 2
Type or paste the text you want to turn into word art. Using Wordle, you can enter a blog address and the entire blog will be turned into a word cloud. You can enter the words to a poem or song or even a short story, then hit "Go" and your entire text will be rendered in a randomized pattern. With Flaming Text, enter your name or a phrase, then select one of the many artistic patterns, set the options you want to apply and press the "Create Logo" button. Your word art will be presented as a graphic. Right-click the graphic and choose "Save Image As" to save it to your computer.
Step 3
Use the small menu that runs along the top of your word cloud to set your color combinations and choose the font you desire. If you're familiar with HTML code, you can use the "Advanced" menu to tweak your word art designs. When you're finished manipulating your words, press the "Print" option at the bottom of the page to print your word art. These can be framed and make excellent, personalized gifts.