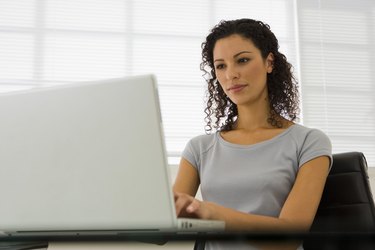 Online web page forms allow visitors to input data for processing by the website. Forms are used in a wide variety of Internet environments and for many purposes. Entering a comment on a blog or sending an email usually requires interaction with an online form, but they can be much more complex. Microsoft Excel is capable of building rich spreadsheets with many input cells. It is possible to convert these spreadsheets into online forms. In this way, the program is used for web design and can greatly reduce the time necessary to create online forms.
Step 1
Download a utility to convert Microsoft Excel spreadsheets into online HTML forms. Excel does not offer native support for interactive forms. Spreadsheets may easily be saved as HTML files, but the resulting web pages are static and do not allow data entry. A good utility program is not free, but free trials are available. Spreadsheet Converter is an excellent option for making online forms out of Excel. The program may be tried for 30 days with no charge.
Step 2
Install the spreadsheet utility from the downloaded file. Spreadsheet Converter downloads as an ".exe" file. Double-click the file and follow the onscreen instructions until installation is complete.
Step 3
Open Excel. Note the new menu at the top of the program window called "SpreadsheetConverter." All of the features of this utility are available through this menu.
Step 4
Build the online form in Excel as you would like it to appear on the web page. For example, type a label of an input field, and leave an empty adjacent cell where the user will enter the data. Cell A1 could be labeled as "First Name" and cell A2 as "Last Name." Cells B1 and B2 would be kept empty for the user response.
Step 5
Code the user data entry cells in Spreadsheet Converter. This is necessary so the utility knows how the resulting online form should function. The program must be told which cells are for data entry. Click on a data entry cell and select the SpreadsheetConverter menu. Choose the appropriate option. The "Mark Input Cell" command will identify the selected cell as a form field for data input.
Step 6
Create a dropdown list menu for the online form, if desired. Many online forms offer pre-set choices for users to select. Pick a cell for this menu and choose the "Dropdown List" item from the SpreadsheetConverter menu. A pop-up window will appear. Type in the name of each menu item and press "OK."
Step 7
Convert the Excel spreadsheet to an online form. Choose the "Convert" command from the SpreadsheetConverter menu. Press the "Next" button on each screen until conversion is complete.
Step 8
View the online form. SpreadsheetConverter automatically opens the HTML version of the Excel spreadsheet in Internet Explorer when the conversion is complete.