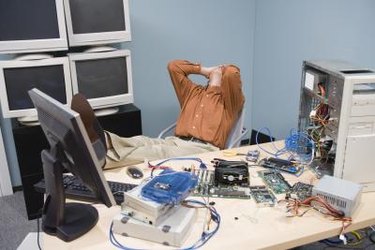 Computers often slow over time due to fragmented software, shadows of previously installed applications, and other remnants of temporary files. Bugs like this can cause your operating system to slow over time; this is one reason computers often seem to lose performance as they age. Keeping your computer in top working condition requires you to spend a little time each month performing routine computer maintenance to help weed out the bugs.
Operating System
The first step in any computer maintenance procedure is ensuring the operating system is up to date, as the OS is the backbone of your system. Windows 8 updates automatically; type "Windows Update" into the Start menu to launch updates in Windows 7. On a Mac, click the apple icon and select "Software Update" to kickstart the process. Operating system updates include speed enhancements, bug fixes and security upgrades that clean up old problems and improve performance.
Malware
Scan your computer for infections and clear out any malicious software. Use an anti-virus first, followed by a spyware sweeper and malware scanner. Working with several different solutions ensures that nothing is missed; some spybots are not detectable by anti-viruses, and some viruses won't get picked up by a malware scanner. The anti-virus, anti-spyware, and anti-malware approach is a powerful method for catching as much malicious software as possible.
Hardware
Download the most recent drivers for your hardware and peripherals to clear out old performance issues or incompatibility problems. Up-to-date drivers for most products are found on the official manufacturer's website; those with older devices may need to seek aid from the manufacturer's customer support team. Device Manage in Windows will show all devices with out of date drivers, while Apple System Profiler in OS X performs the same task for Macs.
Clearing Out Junk
Finally, it is time to remove some of the fragmented files and other junk that clogs up your computer's memory. Open Firefox, Chrome, or Internet Explorer (whichever you use) and press "CTRL + Shift + Delete" to open the cache. Clear all unneeded data. In Safari, click "Safari" and select "Empty Cache." Run Disk Cleanup and Disk Defragmenter to clear out the rest; OS X does not have a native disk cleanup application because it has internal processes that perform this task on a regular basis without the need for user interaction.