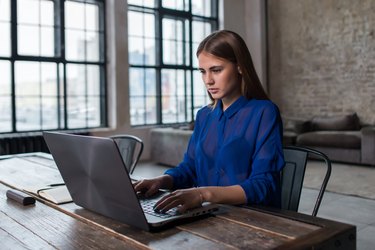 Outlook makes it possible to schedule and delay sending emails. The feature is a necessity for many users, and it allows advance composition and planning before a scheduled date and time for sending. The web-based version of Outlook lacks this feature, however. The number of complaints specific to the lack of a scheduling tool in the web-based version means this will likely change in the future. There is a basic workaround for composing and organizing emails in advance, but it doesn't automate delivery at a predetermined time.
Outlook Delayed Send
In your Windows version of Outlook, delayed and scheduled sending is a breeze. Compose your message and select the options tab when finished. Choose "More Options" and then "Delay Delivery" to set up your scheduled delivery window. The window will give you a "Do not deliver before" option, and you can set your desired sending date and time. After setting the delivery window, click "Send" to schedule the email. It will simply sit in your outbox as a pending delivery until the sending window is reached. The email will send at this time. You can open the pending email before it sends and make any desired changes to the text and the sending window if desired.
Delay Emails in Web App
The Outlook web app delay delivery feature is not an option. You can still compose and organize emails in advance however. Open a new email and compose the desired message. When complete, click the "Save" option and the email will save to your unsent drafts.
If you're writing numerous emails in advance and have a specific sending window for groups of emails, create a unique folder within the drafts and use the send date as the folder name. Save your drafts to this folder and return at the desired sending time to manually send them out. While this does not automate the delayed sending option, it does create efficiency through advance composing and organizing.
Third-Party Options
Email marketing programs that integrate with Outlook are common and work well for scheduling and sending emails. The programs are linked to your account and you'll create campaigns within the third-party program. These are best suited to cold emailing new contacts or using as a newsletter-style email program.
You can build custom lists, bulk send or schedule individual emails. They'll send from your Outlook email and responses will go to your inbox in the web-based or Windows-based Outlook program. Scheduling is a breeze with these programs, but most require a monthly subscription fee for each user.