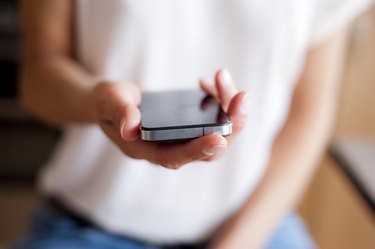 The iPhone Home screen displays your collection of apps and folders. Small dots above your Dock display the number of occupied Home screen pages on your iPhone. However, syncing and iOS update glitches might create blank Home screen pages by accident. You can remove empty home screen pages by resetting your home screen layout on the iPhone itself or by restoring your iPhone to a previous backup.
Reset Home Screen Layout
Step 1
Open the "Settings" menu and select "General."
Step 3
Choose "Reset Home Screen Layout." This returns your home screen to a default icon configuration without custom folders and wallpapers.
Restore from iTunes Backup
Step 1
Plug your iPhone into your computer with the USB cable.
Step 2
Launch iTunes and select "iPhone" on the menu bar.
Step 3
Choose the "Summary" tab.
Step 4
Click on "Restore Backup" to revert your iPhone to a previous backup and home screen configuration.
Tip
If you have not backed up your iPhone to a computer, you can also restore your iPhone from an iTunes backup to revert to a previous home screen layout.
Warning
Resetting your Home screen layout removes all custom folders and wallpapers from your iPhone.
Restoring your iPhone to a previous backup will revert all of your iPhone's data to the backup date, not just your home screen configuration.