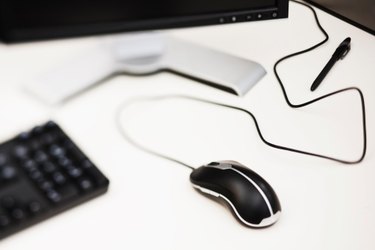 SanDisk is a major supplier of digital memory cards that are often found in cameras, MP3 players and other electronic devices. They can be read via the electronic device or on a computer. Often called flash drives or memory cards, these cards can hold numerous images and files, but must eventually be deleted. The process of deleting the images from a SanDisk memory card is not very difficult.
Step 1
Connect the SanDisk to the computer. If it is a flash drive type, plug it into one of the USB ports of your computer. If it is a memory card, insert the card into a card reader and plug the card reader into the USB port of your computer.
Step 2
Double-click on "My Computer" to open up a dialog box listing the various drives of your computer. Your SanDisk device should be listed as a "Removable Drive." Double-click on the drive of your SanDisk device.
Step 3
Select each image that you want to delete by right-clicking on it and choosing "Delete." If you wish to remove many images from your SanDisk device, press and hold the "Ctrl" key while you click each image name. Once you have selected multiple files, right-click and choose "Delete."
Step 4
Confirm the deletions in the new dialog box that opens by selecting "Yes." Note that once the files have been deleted from your SanDisk device, they are no longer available via that method. Always save the files to your computer or external hard drive before deleting them from your SanDisk device.