To delete several photo albums on Facebook, you need to delete them one by one. You can delete any album -- including empty ones -- except those that were created automatically -- Timeline Photos, Profile Photos and Mobile Uploads. You can, however, delete individual photos from albums created automatically by Facebook. To keep the photos and prevent others from seeing them at the same time, make the albums private. Alternatively, delete specific photos or make them private.
Deleting Entire Albums
Step 1
Click your name in the upper right corner of the Facebook page to visit your Timeline page.
Step 2
Select the Photos tab and then click Albums to view all your Facebook photo albums. The number of photos in an album is displayed below the name of the album.
Click one of the albums to open it.
Step 3
Click the gear icon and select Delete Album from the drop-down menu to delete the entire album. Deleting an album deletes all its photos permanently; deleted albums cannot be recovered. Confirm by clicking the Delete Album button or abort by clicking Cancel.
Changing the Audience or Deleting Specific Photos
Step 1
Open your Facebook Timeline page, click the Photos tab and then click Albums to view your photo albums.
Click the Audience Selector button to the right of the name of the album you wish to edit and select the audience. To make the entire album public, select Public. To prevent others from viewing your album, select Only Me. Customize the audience -- to allow specific people to view the album, while denying others the right to see your photos -- by selecting Custom.
Step 2
You can't change the audience for the Profile Pictures album, but you can change the audience for specific photos or delete them from Facebook. Click the Profile Pictures album to open it.
Click the pencil icon, select Delete This Photo and confirm to delete the photo from Facebook. You can't recover deleted photos.
To avoid deleting the photo, change its audience. Click the photo you wish to edit to open it.
Step 3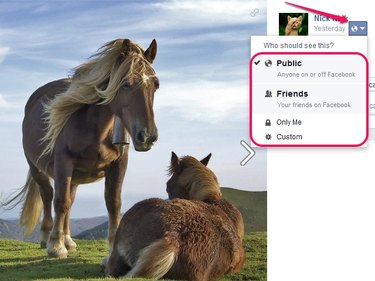 Click the Audience Selector button and select an audience for your image. To share your photo with everyone, select Public. Select Friends to allow only your friends to view the image. Make the photo private by clicking Only Me. To customize the audience -- to allow or deny specific people -- click Custom.
Tip
To back up all your Facebook data, including all photo albums, click the arrow next to your name, select "Settings" and then click the "Download a copy" link -- on the General tab.
Warning
When you delete an album, all its photos are deleted along with all their comments and likes. If you accidentally delete the wrong album, you can re-upload the photos from your computer; you can't,however, recover the comments and likes.