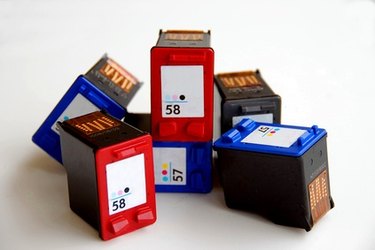 Some HP printers come with software that warn the user when an ink cartridge is almost out of ink. The printer's software communicates with the ink cartridges in the printer to determine the amount of ink left. If the ink cartridges in the printer have been refilled or are not genuine HP ink cartridges, the printer's software will display a warning that the cartridge is almost out of ink. Disabling this warning involves a short and simple process.
Step 1
Look for a message that reads "Don't Show This Again" on the "low ink" warning message. If such a message shows up, click on the box next to it to disable the warning.
Step 2
Click on the "Start" button on your computer. Select "Printers and Faxes." Right-click on your printer's icon and select "Properties."
Step 3
Click on the "Ports" tab in the properties window and click on the check mark in the box that says "Enable Bi-Directional Support." Make sure the box no longer has a check mark and click on "Apply" then "OK."
Warning
Disabling all bi-directional support between the printer and computer can also disable a printer's scanning abilities, as well as warnings about paper jams.