How to Display Your Computer Screen on a TV. You can display your computer screen on a TV if your video card and PC have a TV-out port. Here's how: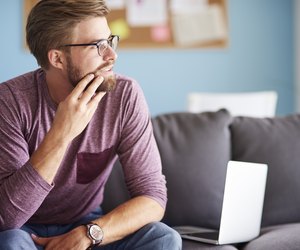 credit: gpointstudio/iStock/Getty Images
Step
Turn off your computer and TV and disconnect the power supply for each.
Step
Connect your video card's S-video port to the TV's S-video port. If your TV does not have an S-video port, connect your video card's S-video port to the composite video-in port of your TV through a video-out cable and a composite video cable.
Step
Switch on your computer.
Step
Go to your operating system's control panel.
Step
Double-click on the "Display" icon and open the "Display Properties" window.
Step
Click on the "Output Device" tab. If you can't see this tab, go to "Settings" and click "Advanced." Then, select the "TV" tab.
Step
Enable video on TV by clicking on the "Enable Output to TV" button or "Output Device: TV." Your computer screen will go blank. Retain that setting. You can now use your TV as your computer's monitor.