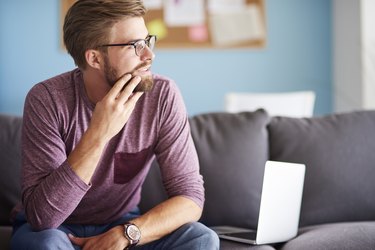 How to Display Your Computer Screen on a TV. You can display your computer screen on a TV if your video card and PC have a TV-out port. Here's how:
Step 1
Turn off your computer and TV and disconnect the power supply for each.
Step 2
Connect your video card's S-video port to the TV's S-video port. If your TV does not have an S-video port, connect your video card's S-video port to the composite video-in port of your TV through a video-out cable and a composite video cable.
Step 4
Go to your operating system's control panel.
Step 5
Double-click on the "Display" icon and open the "Display Properties" window.
Step 6
Click on the "Output Device" tab. If you can't see this tab, go to "Settings" and click "Advanced." Then, select the "TV" tab.
Step 7
Enable video on TV by clicking on the "Enable Output to TV" button or "Output Device: TV." Your computer screen will go blank. Retain that setting. You can now use your TV as your computer's monitor.
Things You'll Need
A composite video cable

Video-out cable
Tip
Some TVs have a VGA cord and port. In such cases, you can simply remove the VGA cord from your computer's monitor and connect it to the TV.