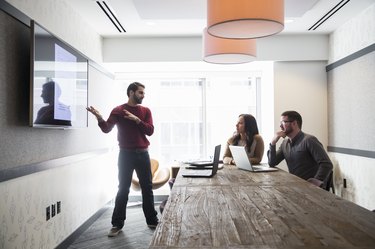 SlideShare is a website that allows users to share and download business documents and presentations online. These documents come in several different formats, depending on what the author uploaded the file as originally. You can download a PPT from SlideShare directly in many cases, but for some documents additional steps are required to get it into the desired format.
Download PPT from SlideShare
If you want to find out how to download a PPT in SlideShare, many can be downloaded in PPT format by default. Whether or not a slideshow is downloadable in PPT will depend on how the author uploaded the file. You can download available PPTs by logging into your SlideShare account and then going to the slideshow that you want to download. Click the "Download" button above or next to the slide and then click "Continue to download" when asked if you would like to clip the slide. Click the "Save File" option and then click "OK." Your SlideShare file will download as a PPT if available. If it downloads as a Word doc or PDF then you will need to take additional steps to get a PPT of the SlideShare file. Note that there are some SlideShare slideshows that are not available to download in any format. Your best bet is to contact the author and request a copy of the slideshow in this case.
Convert PDF to PPT
Many SlideShare files are downloaded in PDF format which means you can view these but cannot edit them in PPT. You can convert the PDF to PPT by using a free online conversion tool. There are several sites that do this (see Resources). Visit any of these sites and click the "Upload File" button to upload the PDF that you want to convert to PPT. Click the "Convert" button to convert the file and then click the "Download" button to download the PPT version. You can now view and edit the file in software like Microsoft Powerpoint, LibreOffice Impress and Apple's Keynote software.
Convert Word Doc to PPT
Occasionally the SlideShare file you download may be in .doc or .docx format. This can be a problem if you want to use the slides in your own PowerPoint slideshow. You can make these compatible with PowerPoint by either importing the Word document or converting the file to PPT with another tool. You can import the Word document into your PowerPoint slideshow by clicking the "Insert"option in the top bar and then clicking "Object." Check the box next to "Create from file" and then click "Browse…" to open the downloaded Word doc. Uncheck the boxes next to "Link" and "Display as icon" and then click "OK" to import the doc.
Alternatively, you can convert the Word doc to PPT format by using an online conversion tool. The benefit of converting the Word doc – rather than importing it – is that you have more control over your PowerPoint and can more easily change things like the layout and text. Use one of the websites listed in Resources to upload your Word doc. Click the PPT option and then click "Convert." Click "Download" to download the PPT SlideShare file.