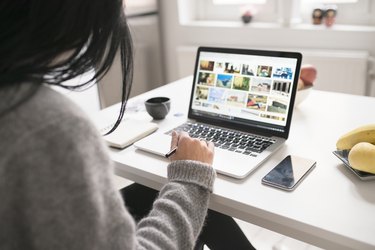 An animated GIF is a short animated sequence of several graphic images that are contained in the same file. Animated GIFs have been around since the 1980s. They were frequently overused in the early days of the World Wide Web, and their popularity dropped. There's been a recent resurgence in their use thanks to social media sites like Facebook and Twitter.
Animated GIF files are more compact than video files and are as easy to add to websites as static images. They're also easy to download from a browser. Most major web browsers, including Chrome, Safari, Edge and Firefox, allow you to download a GIF and save it on your computer. Keep in mind that, if you don't save the GIF in the correct format, you may be able to view only a single frame in the animation sequence. When you save it correctly, you should be able to open it in a supporting browser, online app or desktop application and see it play as expected.
How Do I Download a GIF?
Most browsers allow you to select an animated GIF and save it when you want to download it to your computer. With the Google Chrome browser, for example, this is accomplished by placing the cursor on the GIF, then right-clicking and selecting "Save image as..." from the menu that pops up. You can then choose a folder where you want to save the GIF file. Be sure that the file being saved is a GIF file that ends with the extension "gif," or you may not see animation as expected.
After you've saved the downloaded GIF file, you should be able to open it in a web browser or an application like PowerPoint or Photoshop that supports the display of animated GIFs. If the application doesn't support animation, the GIF may be displayed as a static image or may not be displayed at all. Be aware before you use an animated GIF that it may be copyrighted in such a way that prohibits its use for commercial purposes.
Downloading GIFs From Social Media
Simple animated GIFs were widely popular in the early years of the internet. More sophisticated GIFs that resemble looping videos have become ubiquitous on social media, where they're frequently used to spark engagement. Some popular social media applications have their own methods for downloading static and animated GIFs. In Facebook and Pinterest, clicking on the animated GIF will display it in a separate browser tab. From there, you can use the browser's standard method for saving the GIF. As of 2018, animated GIFs cannot be downloaded to a computer from either Twitter or Instagram.
Download a GIF to Your Mobile Phone
You can also download animated GIFs to your mobile phone and other mobile devices. On iPhones and iPads, tap and hold on a GIF you want to save. If the app you're using supports downloading GIFs, you should be able to tap on Save Image. The GIF will appear static in the Camera Roll but should animate when you display it in an app that supports animation.
On Android, there is no standard way to save GIFs that works with phones made by different vendors. The Giphy app solves this by providing a library of animated GIFs that can be shared in other apps or downloaded to your phone's image storage area. Giphy is available in the Google Play and iTunes store.