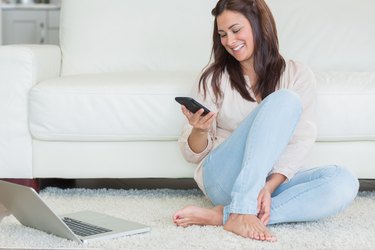 Since the Safari browser for iOS doesn't include a download manager, saving animated GIFs takes a few extra steps that may seem counterintuitive at first. Instead of downloading a GIF animation, you must select the "Share" option and send it to your Camera Roll. Since the Photos app doesn't support animated GIFs, it only displays a GIF's first frame, but the file still contains all the original data. If you upload a GIF to Facebook or send it in a text message, it plays as intended. To view animations stored in Camera Roll, download a third-party photo-viewing app.
Download Animated GIFs
Step 1
Open an animated GIF in a separate window by tapping the image. This step works the same way in Safari or Messages. To view download options for an email attachment, swipe up from the bottom of the screen.
Step 2
Tap "Share" in the menu bar and select "Save Image." For email attachments, simply tap "Save Image." Depending on your network speed and the file size, the download can take a few seconds to a minute or more.
Step 3
Open Photos and select "Camera Roll." The GIF animation is at the bottom of the Camera Roll album, and you can view it by tapping the thumbnail. However, Photos only displays the animation's first frame. If you don't need to view the animation on your iPhone, you can continue using Photos to manage your animated GIFs. They contain all the original animation's frames, and you can even view them as animated thumbnails or full-screen GIFs in Messages by adding them to text messages.
View Animations Stored in Camera Roll
Step 1
Download a photo-viewing app with support for GIF animations, such as Photos+, GifViewer or GifPlayer. Photos+ and GifViewer include Dropbox support, so if you have many GIF animations stored in Dropbox, you may want to choose one of these options.
Step 2
Open your photo-viewing app and select a GIF animation. Browse your iPhone's photo albums in any of the photo-viewing apps by tapping the "Browse" button in the menu bar. In GifViewer, this option is labeled "Load GIFs."
Step 3
Select "Camera Roll" to import files to the photo viewer. If you're using GifPlayer or GifViewer, this step copies files to a new location on your device, using up a little of your storage space. Photos+ integrates with your photo albums so that you don't have to copy files. If available storage is a concern, you can delete the GIFs from Camera Roll after importing them to GifPlayer or GifViewer.