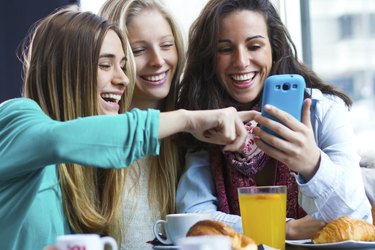 Android phones include software for sending videos via email or text message, but you can speed up the process and add options by installing apps from the Play Store to transfer your videos. The included Gallery app gives you access to videos in your Camera folder, including recorded videos and files you copied to Gallery from another device. Since video files take up a lot of memory, uploading them from any device can take a long time. You can shrink them on your phone with compression software, although shrinking large files can take a long time and use a lot of battery power.
Sharing From Gallery
The Share button in Gallery displays a list of installed apps that have the ability to send media. If you often use various apps to send videos, managing your files in Gallery gives you quick access to SMS, email and social media apps associated with your phone's user account. Different Android versions have different folder names, but Gallery usually sources files from the Camera, Pictures or Videos folder. You can transfer videos to Gallery by connecting your phone to a computer's USB port, opening the device in File Explorer and dragging files to the appropriate folder. To share videos in Gallery, tap "Share," choose a sharing option and then send a message. For example, choose "Gmail" to open the Gmail app and automatically create a new message with the video as an attachment.
Compressing Videos
Compressing videos on your Android is appropriate in certain situations -- for instance when you have a slow network connection, you're away from your computer, and you need to share a phone recording. Most video shrinking apps can also convert files to a number of output formats, so your recipients can watch the video on a variety of platforms. Open the Play Store and download an app such as Video Shrink, Video Converter or Video Compress (links in Resources). These apps search your entire device for videos, so files don't need to be in Gallery to be sourced. If you have a fast network connection and a relatively underpowered CPU, it may be faster to send the video without compressing it.
Sending Videos to Multiple Recipients
Cloud sharing sites enable you to upload your video just once and share it with multiple people. You can accomplish the same goal by attaching a video file to a mass email, but cloud storage apps give you additional options. Apps such as Box, Dropbox and SugarSync free up space on your Android and enable you to send links to an uploaded video, whereas email attachments must be uploaded again for future emails (links in Resources). These cloud apps have access to your contacts, and you can quickly send a video link by tapping "Share" and choosing a contact.
Social Video Apps
Apps such as Instagram, Mobli and VMS enable you to share videos publicly or privately (links in Resources). Sharing videos with these apps is essentially the same as using cloud storage, but interacting with other users is a social activity and you can search or browse other public profiles. VMS works like a text message or email app by enabling you to create messages with video attachments and receive video messages in your inbox. Instagram and Mobli offer a conventional social media experience, but you can send private video messages with either app by selecting the "Direct" option when creating a message.