After recording a video, you can share it with family members, friends and coworkers by sending it as a multimedia message. If you have a smart phone, you can send the video via email. Note that older cell phone models may not have video recording capabilities. If you own one, you may not be able to record and send videos from your cell phone.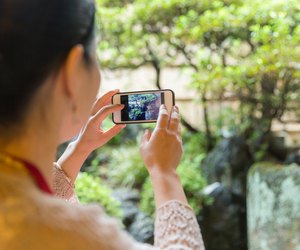 credit: MOKUDEN_photos/iStock/Getty Images
Cell Phone
Step
Pull up and activate the video recorder feature on your cell phone and record your video. Save the video to your phone.
Step
Go to the "My Video" section on your phone; it is most likely located under the Media Center menu, although the exact name of this section will vary by mobile phone model. Select "Options" and then choose the link to "Send video." A new multimedia message window will pop up with the video automatically attached.
Step
Type in the email address for the person who will receive the video. If you want to email the video to yourself, type in your own email address. Move down to the message body to type in a caption or short note to your recipient. Send the message.
Smart Phone
Step
Record and save your video. The process will vary slightly with different smart phones. If you are using an iPhone 3GS, touch the "Camera" icon on your main screen.
Step
Touch the "Choose Existing" option. Select the video you want to email and touch the word "Choose." Start a new email message and add your selected video as an attachment.
Step
Enter the email address for your recipient, add a short message if you wish, and then send your email. Your phone may automatically compress video files when sending your email to accommodate attachment size limits. The exact process and which section your videos are saved under will vary as each smart phone model is set up differently.