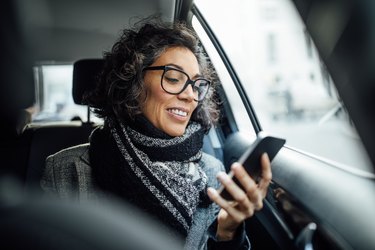 Modern cellphones offer a convenient and powerful video platform with easy email video-sharing options. Android and iOS platforms are built to record video and share it to multiple media options in a matter of seconds over a fast data or Wi-Fi connection. Social, cloud and email sharing are all common and intuitive on smart phones.
Monitor File Sizes
Sharing directly to email is easy, but file sizes can limit or block sharing capabilities. Email is not designed to send large amounts of data, and most email servers have limits on file size. In general, short cellphone videos are easy to share, but anything that runs past the 1-minute mark may enter too-big-to-email territory. It never hurts to try, but the email server may notify you that the file size is too large.
Focus on sharing short clips through email and use other options to email video in larger file sizes. The best way to send large files over email is to upload it to a third-party service. You can place a link to the hosted file in an email, making it accessible to the reader. The file sits on a server where file size is not an issue. In the case of long videos and movies, using an outside service and emailing the access link or instructions is the most efficient means of sharing cellphone videos via email.
Direct-Sharing Options
The process for sending a cellphone video via email is simple to execute. First, secure a fast connection. Data works well, but loading video uses a huge amount of data. Wi-Fi is ideal for a reliable connection that doesn't eat up expensive data plans. Regardless, a high-speed connection expedites the process and prevents long load times.
Open the photo gallery on the phone and locate the video. Tap the sharing icon to open the sharing options. All smart phone platforms have a sharing icon to make sharing easy via text, messaging services, social media, email and cloud-connected accounts. Locate your connected email account to open a new message with the attached video.
Type the receiver's email address and enter the subject line along with any desired text in the composition box. Go ahead and click Send to deliver the email. If the file size falls within the maximum size settings, the email delivers directly to the recipient.
Send Video Via Cloud Service
A cloud-based service can host vast amounts of data and large video files. Every service has different limitations, and some require a paid account after a certain storage threshold. Services such as Dropbox, iCloud and Google Drive are all accessible, and most have free plans for limited use. A cloud account can act as a hard drive where all your photos, documents and videos can be stored, or you can use it only for selected files. The only difference is that the content sits on company servers rather than a personal computer.
Log in to your cloud account on your smart phone or download an app for the account. On Android, Google Drive syncs with the phone, and iCloud does the same for iPhone models. Open the video and use the same sharing icon to generate a list of sharing options. Choose to share the video with the cloud account or load it into the account for permanent storage.
Open the video in the cloud account and generate a shareable link. You may also click Share and add the email address directly through the account for easy email video sharing. Choose to either make the video view-only or give the user access to edit as well. When using a shareable link, paste that link into an email and send it off. The recipient then clicks the link in the email to access the video.