If you run into problems emailing a video because the file is too large, don't panic, because you're just going about it the wrong way. Instead of attaching a video from your mobile device or your computer, upload the video to cloud storage. Once it's stored in the cloud, you can send out copies or send a link that your friends can use to view the video and download it if they want to keep a copy. Each of the top three email providers -- Google, Microsoft and Yahoo -- gives you free cloud storage for your video and an easy way to distribute videos from the cloud to everyone on your "A" list. If you don't want to use cloud storage, you might be able to compress the video file to a size that you can email.
Gmail
As of June 2015, your Google account comes with 15GB of free storage on Google Drive. When attaching files from your hard drive to a Gmail message, you can only attach files up to 25MB — but you can attach a file up to 10GB in size when it's stored on your drive. View the percentage used of total storage and purchase additional space through your Google account, if necessary.
Step 1
On an Android device, locate the video in the device's gallery and choose Share. Select Google Drive and sign in if necessary. Type a filename and choose Save.
Step 2
Next, launch Gmail, compose a new message, click the paperclip icon, choose Attach File and select the file from your Google drive. You might get a prompt that notifies you that you are sharing files with others.
Step 3
Even though you can send a large file through Gmail, your friends might not be able to receive it if they use a different email service that imposes restrictions on attachment sizes. Instead, choose Drive Link instead of Attachment and email a link to the video on your Google Drive.
When you send a link to a file on your Google Drive, and a recipient doesn't already have access to it, Google prompts you for the sharing settings. You can make the link public and adjust what people can do if they have a link — View, Comment or Edit. Or, you can make the link private and only allow select people to view, comment or edit the file. To make a link private, all recipients must have a Google email address.
Outlook.com
An Outlook.com email account entitles you to 15GB of free storage on your OneDrive, Microsoft's cloud storage solution. The maximum size of an attachment when you attach from OneDrive is a whopping 300GB. When you sign in to your Outlook.com account, you're automatically logged in to your OneDrive. Microsoft also offers free mobile apps for OneDrive.
Step 1
Sign in to your Outlook.com account and select OneDrive from the menu. Choose Upload and Files, select the video and wait while it uploads. When you choose Share after the video uploads, you can create an email with a link to the video from OneDrive without having to switch back to Outlook.
Step 2
Alternatively, tap the menu and switch to Outlook.com. Create an email, choose Insert, select Share From OneDrive and then select the video file to share in your email message.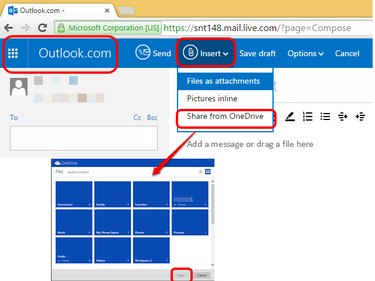 Yahoo
Yahoo doesn't have its own cloud storage service, so it partnered with DropBox, a popular cloud storage solution. When you create a new account on DropBox, you get 2GB of free space. You can earn an extra 1GB for every friend you refer to DropBox, up to a maximum of 16GB. You can upload to DropBox through a browser or by using one of its free mobile apps.
Step 1
On an Android device, select the video you want to upload and choose Share. Select Add to DropBox and sign in to your account if necessary. Then select a location in your DropBox, such as a folder, to save the video. Choose Add to upload the video to your DropBox.
Step 2
Next, sign in to your Yahoo email account using a browser. Create a new message and click the paper clip icon at the bottom of the message to view the Attachment Options. If this is the first time you're attaching a file from DropBox in Yahoo, sign in to DropBox and agree to link your accounts. Once you've linked your accounts, select the video from your DropBox and select Choose.
Compressing the Video
If you don't want to upload your video to the cloud, you can compress the video to reduce the size of the file. If you don't already have an app to compress files, download and install one on your device.
For example, on Android, go to the Google Play Store and type compress video in the search box. Choose an app, such as WinZip, and install it on your device. Launch the app, select the video file and then select a location to store the compressed version. Attach the compressed version of the file to your email message to find out if it's small enough to send.
Tip
It's possible that the compressed video will also be too large to email. Media files don't usually compress well because they are already stored in a compressed format.