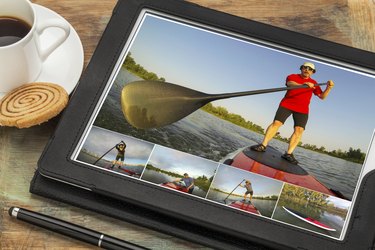 In addition to a large catalog of customizable photo products, Shutterfly offers you several photo sharing tools to distribute images between your friends, families and other groups of people. From the main Shutterfly interface, you can email pictures and post photos or albums to Facebook, though neither option offers high-resolution downloading capabilities. With Shutterfly Share Sites and the Shutterfly iOS app, on the other hand, you can save images at print-quality resolution.
Shutterfly Share Sites
Step 1
Click an image that is hosted on a Shutterfly Share Site and hover over the full-size image.
Step 2
Select "Download picture" from the available options in the drop-down menu that appears.
Step 3
Sign in to your Shutterfly account if prompted to do so and then indicate where you'd like the file saved on your computer.
Shutterfly iPad App
Step 1
Launch the iOS Shutterfly app and open an image.
Step 2
Tap the "Action" icon above the image. The icon looks like a rectangle with a forward-facing arrow.
Step 3
Select "Save to iPad" from the menu that appears to save the image to your Photos application.
Tip
In order to make your photos available for download, the images will need to be exported to a free Shutterfly Share Site. To create one, sign in to your Shutterfly account and click "Share" at the top of the page. Click the "Share Sites" icon and add photo files to generate a link to your new Share Site.
Files that are obtained via Share Site or in-app download are saved -- and accessible immediately -- at a resolution of 1600 pixels by 1200 pixels, which is adequate for high-quality prints sized up to 8 inches by 10 inches.
Shutterfly members can also purchase Archive DVDs of several saved images at their original, full resolution, using the "Store" tab in the top menu. This option requires both production and shipping time, and prices -- as of June 2014 -- start at $9.99 plus shipping and handling.