When someone sends a great photo to you in an email message, you'll probably want to save a copy for yourself on your computer or print a copy. Downloading images from an email message isn't a complex task, but it varies from one service to another, and embedded images are handled differently from attached image files.
Using Outlook 2013
Image Attachments in Outlook
Step 1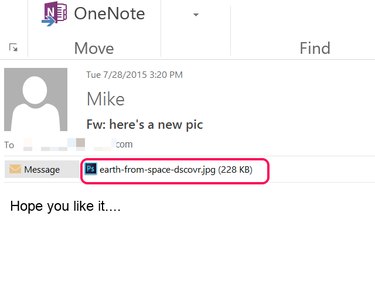 Click the attached image file in an Outlook message. The image opens in an Outlook preview.
Step 2
Right-click the file attachment and select Save As. Alternatively, click the Save As icon that appears in the Attachments ribbon. To save multiple images attached to the same email, use the Save All Attachments option.
Step 3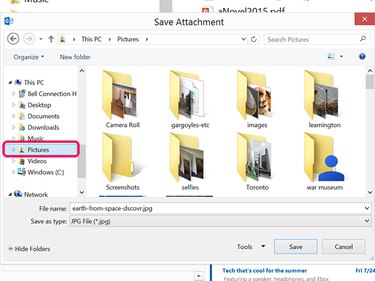 Select the Pictures folder in the navigation window that opens. Change the file name if desired and click the Save button.
Embedded Images in Outlook
When a picture is embedded in an email, it appears automatically along with the text, and you don't see a file attachment for the image. To save an embedded image to your Pictures folder, right-click the picture and select Save as Picture. All the other options, except Copy, are grayed out. These grayed out options are used when you're composing a message, not when you're reading a received message. To print the image, save it to your computer first and then open it in an image app such as Photos.
Printing an Attachment in Outlook
To print an image attached to an email in Outlook, right-click the attachment and select Quick Print. In the dialog box that opens, select your Printer, Paper Size and Quality. In the right panel, select an image size. After specifying the number of copies you want and turning on your printer, click the Print button.

Browser-Based Mail Services
Step 1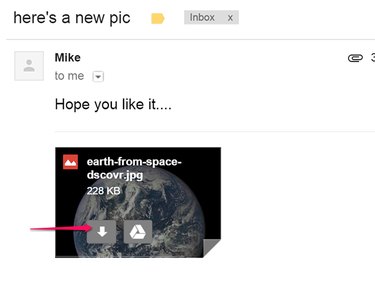 Open the message containing the image that you want to download. In Gmail and Yahoo, hover the cursor over the image and click the Download icon. In Gmail, click the arrow-shaped icon. In Yahoo Mail, the icon reads Download. If you're using Outlook.com, click the attachment and select Download.
Step 2
Go to the image in File Explorer after the download is complete.
Step 3
Drag the image from the Downloads folder to the Pictures folder.