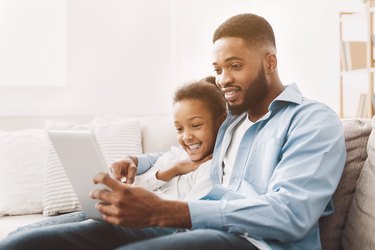 Exactly how to download video from Google Chrome depends on where the video is coming from. For some websites, you'll be able to click a link on the site to download the video, saving with Google Chrome. For other sites, you can use a Chrome extension to download the video. Some websites may not support either, and you should make sure to be aware of how copyright law affects which videos you can download and what you may do with them.
Download Video from Google Chrome
Some sites will make video available that you can download using your web browser. These videos might be playable in Chrome itself or might be playable in some external tool, such as Windows Media Player or Apple's iTunes. Check to see if the site offers guidance on what software can play the videos and follow the download link to grab the video.
If you don't see a download link and you're on a desktop or laptop computer, mouse over or right-click the video to see if a download icon or "Save" option appears. On a phone or tablet, press and hold the video to see what options appear.
When you download a file in Google Chrome, you may be prompted to choose a location to save it. If not, it may save to your "Downloads" folder or another folder you have chosen by default. Click or tap the file to open it in the default app or open another application and navigate to the file to attempt to play it. Only download videos and other material from sites that you trust to reduce the risk of accidentally downloading malware or paying for fake or pirated files.
Use a Chrome Extension
You may be able to download some video files using a Google Chrome extension even if there is no download link present on the video site. Some extensions you can use for this purpose include Flash Video Downloader and Video Downloader Professional (see Resources).
Install the extension of your choice and navigate to the website where the video is. Click the extension's icon in your browser tray or follow whatever other instructions are given in the extension's documentation to download the video if it's possible to do so. You can't always download any video in Chrome that you wish. Google generally doesn't allow extensions to facilitate downloading from YouTube, so you may have to use other software or simply stream YouTube video as usual.
Make sure to only download extensions from sources you trust, since they can potentially spy on you or otherwise interfere with your use of your computer. If you're not sure which extensions are trustworthy, read reviews from sites you trust online.
Google Play Movies
Google Play Movies is Google's digital movie rental and purchase service.
If you're using an Android or iOS phone or tablet or you're on a Chromebook computer, you can download movies using the Android or iOS app for Google Play Movies or the Google Play Movies Chrome extension on a Chromebook.
You can't download Google Play Movies to PC or Mac computers, although you may stream them on such devices.
Downloading Videos and Copyright Law
Copyright law governs when you can make copies of artistic works, how you can distribute them and when you can show them to an audience. Generally, you need the permission of the copyright holder to do any of those things. Some exceptions apply for purposes such as news reporting, scientific research and criticism.
If you're going to download video from online sites, make sure you understand how copyright law governs your downloading and whatever else you plan to do with the video. If you violate copyright law, you can be sued and even potentially criminally prosecuted.