Several types of video file formats can be embedded on Web pages for online streaming purposes, but each must meet specific conditions in order for the video to play. Since it may be difficult to identify the file type of certain videos, cover all your bases by updating important software and essential plugins related to video playback, and perform other maintenance operations. This should ensure that your Web browser can handle any type of video you encounter as you surf the net.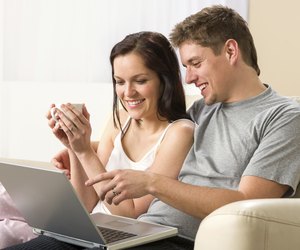 credit: CandyBoxImages/iStock/Getty Images
Updating Important Software
Since playback errors can be caused by unidentified bugs or errors, upgrading to the latest versions of key applications is a solid first troubleshooting step. Software developers release new versions of apps to fix bugs, add new features or add compatibility. Install any important updates to your operating system and make sure you are running the latest version of your favorite Web browser. In rare situations, upgrading drivers, such as your graphics driver, to the latest version can solve the problem, too.
Installing Essential Plugins
Some videos will not play back in your browser unless you have the appropriate third-party software or plugins. Software like Adobe Flash Player is essential to watch certain videos on Mozilla Firefox or Apple Safari. Installing other plugins like Adobe Shockwave Player, Java Runtime Environment, RealPlayer and QuickTime may solve the problem as well. Installing codec packs or universal media players like VLC Media Player and K-Lite Codec Pack can help out with both online and offline video playback. Even if you think you have these plugins installed, reinstalling them or upgrading to the latest version is recommended as this can repair any hidden problems.
Setting Key Options
Even if your computer has the required files and software, videos can still refuse to play back if key options are disabled. Make sure Javascript is enabled, as the video may depend on a specific script or command to enable playback. If your browser has third-party plugins, you should also make sure these plugins are not configured to block certain videos. Try disabling certain plugins -- like pop-up blockers -- and check if the video plays back.
Performing Other Maintenance Operations
To deal with corrupted files, you can try clearing your browser's cache and cookies to force your browser to retrieve a fresh copy of the hosted video. Once you have installed some apps, updated others and tinkered with the settings, restarting your computer could be the thing your system needs to remedy the issue. Doing so also enables you to restart your Web browsers so all the changes are fully committed. If the problem persists, it may have something to do with your Internet connection. Lowering the quality of the video or resetting your modem or router may help with the playback.